Transport system solutions player EVD closes 4.7% higher on first day of trading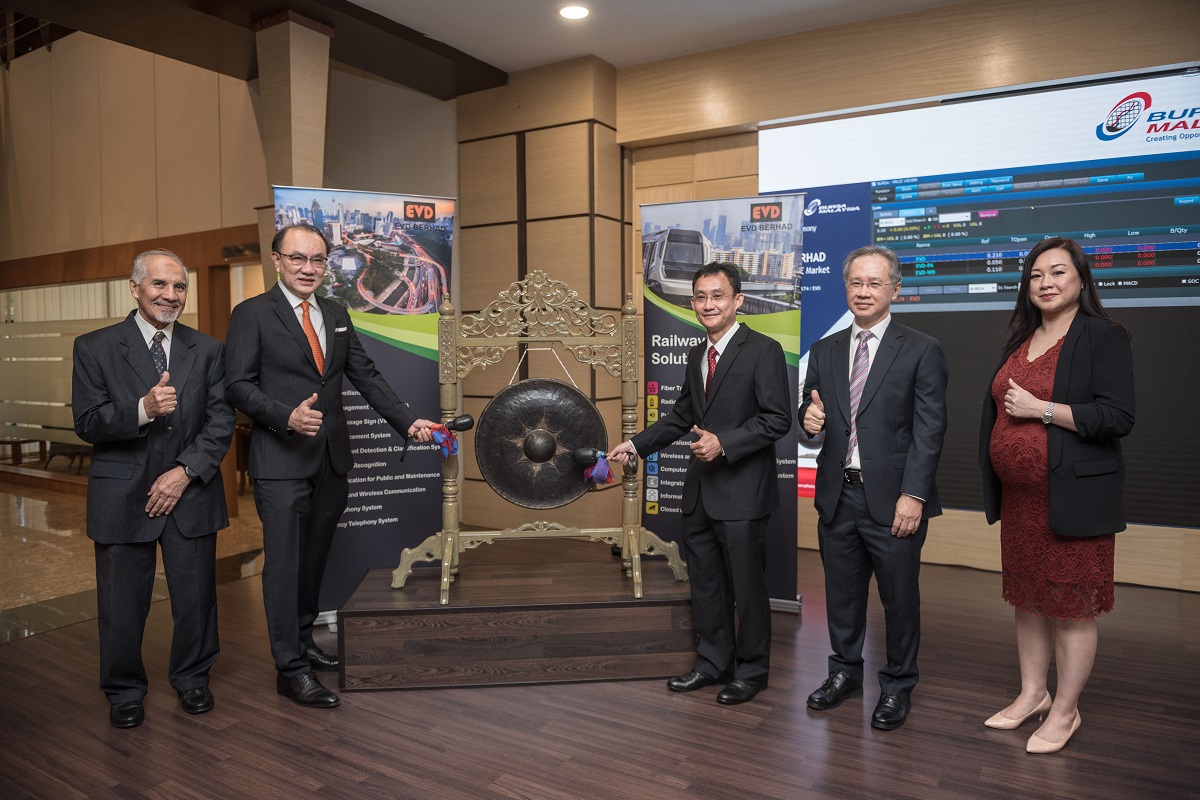 KUALA LUMPUR (July 1): EVD Bhd, which assumed the listing status of iDimension Consolidated Bhd upon completion of the latter's regularisation plan, opened at 26 sen on Bursa Malaysia's ACE Market on Friday (July 1), 23.8% higher than the reference price of 21 sen.
The stock traded between 22 sen and 28 sen for the rest of the day before closing at 22 sen, for one sen or 4.76% higher over its reference price, with some 6.785 million shares traded.
Based on the closing price, the company had a market capitalisation of RM27.41 million.
EVD provides information and communications technology system solutions, focusing primarily on transportation system solutions.
Speaking at a press conference in conjunction with the listing, EVD executive director Gan Wee Peng said the group's prospects are going to be positive in the longer term as there are immeasurable opportunities in the growing transportation system solutions industry in Malaysia, which is depicted having an estimated compound annual growth rate of 9.9% from RM1.78 billion in 2022 to RM2.15 billion in 2024.
"The government has [also] announced the construction of several transportation infrastructure [and the approval for] three new highways [in the Klang Valley], and there is also the MRT 3 (Mass Rapit Transit 3) project. These are typically projects that we will participate in. We have participated in MRT and MRT 2. We do hope that this will be positive for us," he said.
At the moment, the company has not formulated any dividend policy.
Eyeing regional market, looking to expand business to Indonesia and Thailand
Moving forward, the company intends to leverage some of the opportunities created by the upcoming railway, urban rail transit system and road/highway projects in Malaysia, and intends to seek to widen its range of transportation system solutions for other types of transportation infrastructure.
In addition, the group intends to leverage its track record in delivering transportation system solutions for key railway, urban rail transit system and highway projects in Malaysia to tap into the regional market, particularly the Southeast Asian countries.
"Since we are already in the Philippines, we are looking into Indonesia and Thailand. As we enter the Southeast Asian and foreign countries, they would have different laws and requirements. As long as we remain competitive, we will form partnerships and joint ventures [if there is a need].
RM26.64m gross proceeds allocated for working capital, settlement of EVE acquisition
Through the regularisation plan of iDimension which included, among others, a share consolidation, a private placement, a rights issue, a management buyout, acquisitions of EVD's wholly owned subsidiaries, namely EV-Dynamic Sdn Bhd  and EVD Engineering Sdn Bhd (EVE), securities exchange and the transfer of listing status, EVD eventually assumed the listing status of iDimension.
The private placement, rights issue and management buyout collectively raised gross proceeds of RM26.64 million. A total of RM12 million will be used as part of settlement of the purchase consideration for the EVE acquisition, RM11.34 million for working capital of the EVD group and the remaining RM3.3 million for estimated expenses in relation to the regularisation plan.
EVE reported a net profit of RM42.375 million for financial year 2019 (FY19), which rose to RM64.465 million in FY20 and RM150.8 million in FY21. Meanwhile, EV-Dynamic posted a net profit of RM160.309 million in FY19, RM82.906 million in FY20 and RM172.409 million in FY21.
To recap, iDimension slipped into Guidance Note 3 (GN3) status on Oct 30, 2018, after its external auditor BDO expressed an adverse opinion on its audited financial statements for the six-month financial period ended June 30, 2018. iDimension was lifted from GN3 status on Friday, and as part of the regularisation plan, EVD was admitted in place of iDimension under the technology sector.
The content is a snapshot from Publisher. Refer to the original content for accurate info. Contact us for any changes.
Related Stocks
Comments