Petronas CEO calls for O&G players to innovate to tackle energy and climate crisis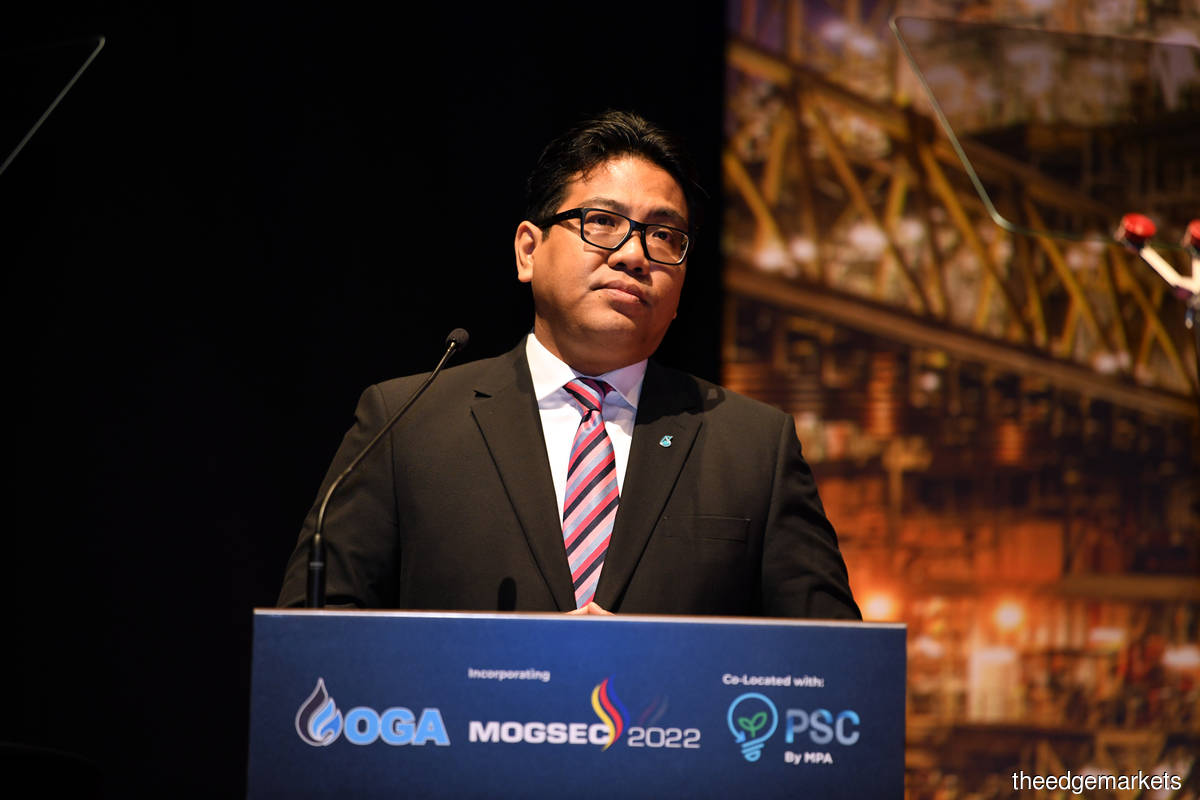 KUALA LUMPUR (Sept 13): Oil and gas (O&G) industry players need to come together to tackle issues of the energy and climate crisis, according to Petroliam Nasional Bhd (Petronas) president and group chief executive officer Datuk Tengku Muhammad Taufik Tengku Aziz.
"The [O&G] industry has a responsibility to respond to energy issues, which are considered an aggressive trilemma of affordability, security and sustainability," Tengku Muhammad Taufik said in his keynote address during the opening ceremony of the Oil & Gas Asia 2022, with the Malaysia Oil & Gas Services Exhibition and Conference and the Petrochemicals Sustainability Conference, on Tuesday (Sept 13).
However, citing a lack of new O&G investments and fewer oil discoveries in recent decades, he noted that the energy crisis comes as no surprise, given how ill-prepared the market is in response to shortages of supply.
"This leaves us (the O&G industry) with little choice, but to pursue and deliver greater technological innovation at an unprecedented scale," he added.
Tengku Muhammad Taufik added that the industry must continue to tap the full potential of technologies at its disposal to offer the solutions it sorely needs to meet the world's growing demand for energy.
"Let's face it, oil prices will be subject to correction, and even in a crisis, we cannot realistically hope oil prices will reach and remain beyond three digits into the foreseeable future," he remarked.
In response, Tengku Muhammad Taufik called for O&G players to collaborate and share resources to tackle the issue at hand, and innovate their technology and create an array of new revenue streams.
He suggested that the industry as a collective group looks towards carbon capture, utilisation and storage (CCUS) in particular, as he reasoned that it is an area equipped with bountiful opportunities for greater collaboration.
"We welcome greater partnership across the region and beyond to forge ahead together with us in this exciting journey to drive action towards setting the pace of the future of energy.
"These efforts are just the beginning of what the industry can offer, as we continue to improve our core areas. Considering the growing energy demand, we believe there is still a significant runway to invest in O&G," he added.
Touching on Petronas' plans in particular, Tengku Muhammad Taufik noted that the national O&G giant has its eyes on unlocking the vast potential carbon storage capacity in Malaysia to accelerate the decarbonisation of its operations by managing a carbon storage portfolio, as well as establishing a regional storage hub for carbon emissions as a new revenue generator.
"The delivery of [Petronas'] Kasawari project will be one of the largest CCUS projects in the world, with a capability of capturing around 3.5 million tonnes of carbon dioxide annually," he said.
Tengku Muhammad Taufik said Petronas is of the view that the energy transition must be done responsibly and sustainably, and requires the use of low-carbon technologies strategically and systematically, adding that the group has consistently conveyed to oil and gas service equipment (OGSE) companies the need to pursue innovation to remain competitive against global players.
"What we are seeing today is an energy crisis, a food crisis, an inflation crisis and, if left unchecked, all of these will converge into what we cannot contend with, which is a world security crisis.
"While all this threatens us in the near term, we are already facing the spectre of a climate crisis which, if you have been observant, has already manifested itself — like the disastrous floods in Pakistan, prolonged drought in Africa and, most recently, in Europe.
"Quite simply, nothing less than an all-in effort from all stakeholders is required to reduce the share of emissions to a secure and sustainable level," he said. 
Read also:
OGA 2022, MOGSEC, PSC reflect opportunities in Malaysia's diversified economy
Indonesia invites O&G investments towards meeting energy demand
The content is a snapshot from Publisher. Refer to the original content for accurate info. Contact us for any changes.
Comments