Samsung's Marks A New Chapter For Foldables With The Galaxy Z Fold4 and Z Flip4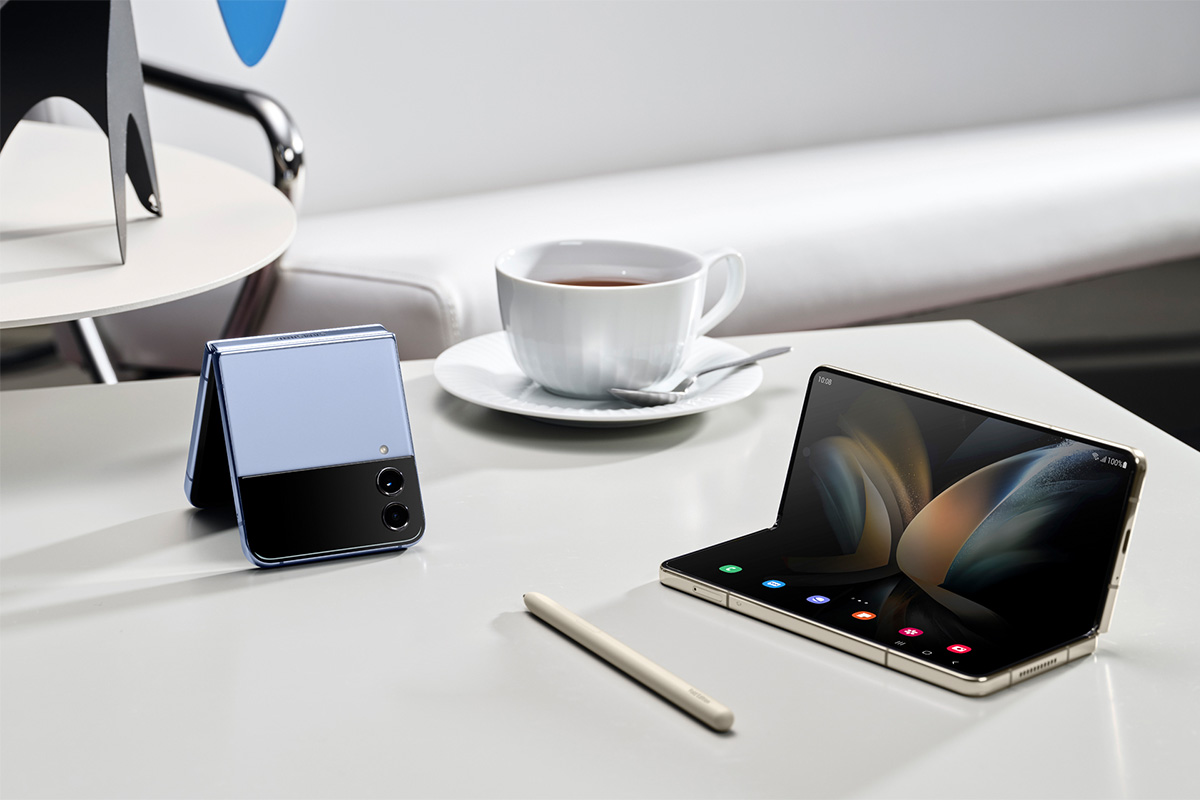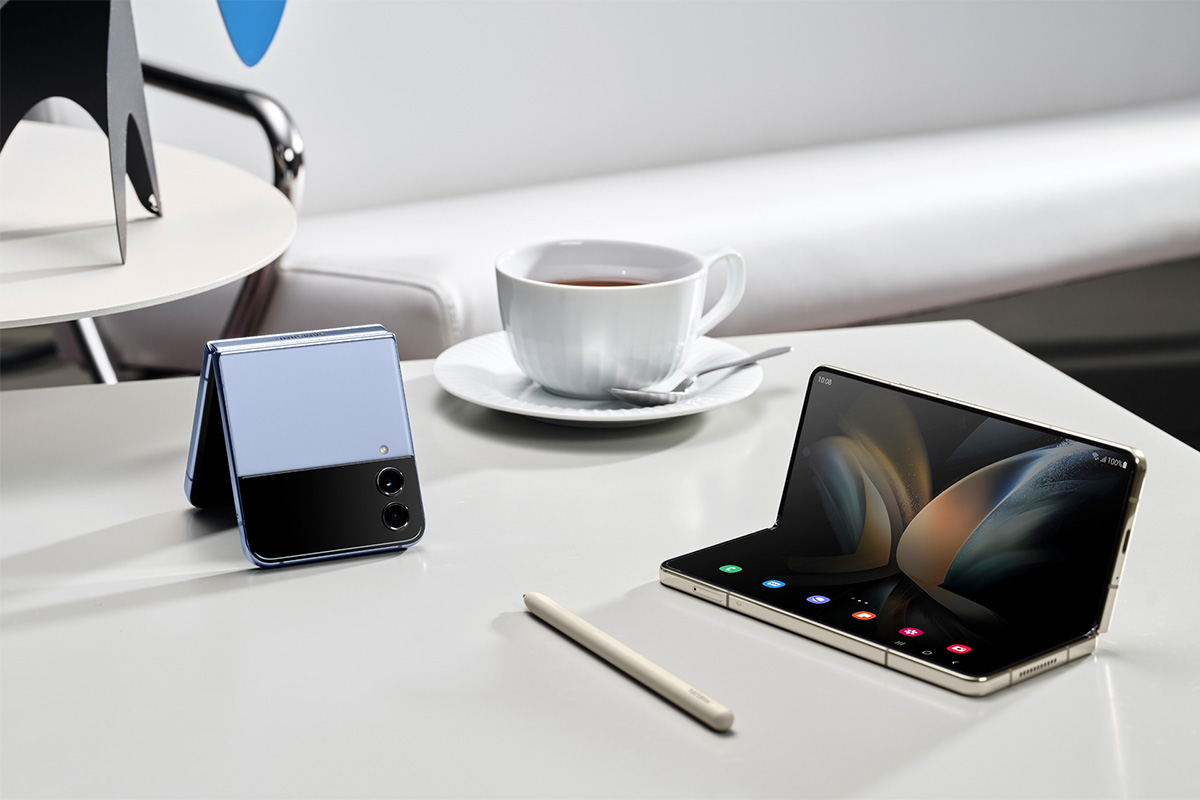 Samsung's fourth generation foldables deliver unparalleled productivity and enhanced features that elevate the smartphone experience
When it comes to defying convention, Samsung is undoubtedly a front runner in the field as it has repeatedly set the bar within the consumer electronics segment. A market leader when it comes to smart tech and smartphones, the South Korean tech giant has shown an unrivalled commitment in creating mobile innovations that far surpass the expectations of the modern consumer.
More than a decade ago, in 2011 Samsung unveiled to the world its first prototype phone with a flexible display. Little did we know that it was the first glimpse of the future for smartphones. In 2019, Samsung unveiled the Galaxy Fold, its first foldable device and with that making its foldable vision a reality.
Three years on since, Samsung foldables continue to break new ground in smartphone innovation. Its latest entries to the realm of smart devices come in the stunning form of the ground-breaking Galaxy Z Flip4 and Galaxy Z Fold4. Armed with advanced camera technology and powerful mobile processors, both smartphone models feature customisable form factors, superior craftmanship and upgraded performance tailored for modern multi-taskers.
Crafted to deliver new, impactful interactions that enhance everyday life, the new models are designed to deliver a highly evolved smartphone experience. The fourth generation models boast premium build quality, a stunning shape-shifting design along with immersive displays and optimised performance.
The Trendsetting Tool For Self-Expression
With the new Galaxy Z Flip4 Samsung has once more flipped the script for foldable phones with design tweaks, enhanced functionality and improved camera capabilities. Housed within its stylish and fashionable compact clamshell design is a host of features designed to deliver unique experiences not available on any other smartphone.
The Galaxy Z Flip4 takes full advantage of its design, allowing users to go truly hands-free. Whether it's for work or pleasure, users can use the Galaxy Z Flip4 to make calls, reply to texts and control the SmartThings Scene widget, all from the convenience of its Cover Screen.
Sporting a slimmer profile thanks to its new thinner hinge, the Galaxy Z Flip4 cuts a sleek and stylish figure. With its well-defined edges, contrasting hazed back glass and glossy metal frames, the new Flip is both refined and fashionable. For those requiring a personal touch, the smartphone can be fully customised with 75 unique glossy colour combinations along with Galaxy Themes on both Cover and Main Screen to complement their style.
Flipping open the phone opens a wealth of possibilities. Users can shoot hands-free video or capture group selfies by activating FlexCam. Optimised for social media, the phone captures high-quality selfies from its Cover Screen by leveraging the main camera with the upgraded Quick Shot. For vloggers and creators, the Galaxy Z Flip4 is a boon as it allows them to film high-quality videos in Quick Shot before seamlessly switching to Flex mode totally hands-free. Snapdragon 8+ Gen 1 Mobile Platform also delivers sharper, crisper photos and videos day or night.
When it comes to performance, the Galaxy Z Flip4 sets the with an expanded 3,700mAh battery With Super-Fast Charging, which can replenish its battery capacity up to 50% in around just 30 minutes. With hyper fast 5G connectivity along with seamless wireless link to PCs, the Galaxy Z Flip4 is suitable for both work and play. Best of all with its IPX8 water resistant rating and strong aluminium and tough glass built, which offers enhanced durability against drops users can enjoy a worry-free experience with the Galaxy Z Flip4.
Unfold Your Potential With Unmatched Performance
A powerful multi-tasking powerhouse, the Galaxy Z Fold4 is the culmination of Samsung's vast expertise in mobile technology. The brand's most powerful smartphone yet, the device is the first to feature Android12L, which is optimised for large-screen experiences. Designed for productivity, the Z Fold4 is kitted with a PC-like Taskbar, offering easy access to your favourite and recent apps.
The device's large cover screen unfolds to reveal a tablet-like experience with the swipe gesture affording more intuitive multi-tasking. It allows users to switch full-screen apps to pop-up windows or split the screen in half. Further enhancing the Z Fold4's reputation as a powerful productivity tool, the device also boasts S Pen functionality as well as a suite of Workspace apps such as Google Meet, and Microsoft 365.
Although it's a powerhouse performer, the Galaxy Z Fold4 is nevertheless still pocket-friendly thanks to its minimised bezels, slimmer hinge and lighter weight. Cover Screen also enables easier one-handed interactions for added convenience. When it comes to capturing photos and videos, the Z Fold4 has got it covered with an upgraded 50MP-wide lens and 30x Space Zoom lens.
A variety of camera modes including the larger Zoom map on Capture View Mode, Dual Preview and Rear Cam Selfie offer increased flexibility. With its larger pixel size, a 23 percent brighter sensor and enhanced processing power, the device also captures clear images at night and in low-light conditions.
When it comes to multimedia, the Z Fold4 once more stands apart from the competition with its 7.6-inch Main Screen and 120Hz adaptive refresh rate offering more immersive content. Flex mode also adds to the convenience with the new Flex Mode Touchpad, offering greater accuracy while pausing, rewinding, and playing videos. Gamers can enjoy a seamless and immersive experience delivered by the powerful Snapdragon 8+ Gen 1 Mobile Platform and hyper-fast 5G.
The Galaxy Z Fold4's powerful nature is matched equally by its amazing durability. Built with Armour Aluminum frames along with exclusive Corning Gorilla Glass Victus+ on the Cover Screen and rear glass along with IPX8 water resistance, it stands as one of the toughest and most durable foldable phones Samsung has ever produced.
With the new Galaxy Z Fold4 and Galaxy Z Flip4, Samsung has once more defied convention in what a smart phone can deliver. By fulfilling the needs of today's dynamic users, these fourth generation foldables offer unparalleled mobile experiences, in terms of both enhanced features, productivity and customisation. More than just a smartphone, both the Galaxy Z Fold4 and Z Flip4, are assuredly statement makers designed for those who want to stand out whilst getting the most out of their smart device.
Discover how the Samsung Galaxy Z Fold4 and Samsung Galaxy Z Flip4 can help enhance your life.
The content is a snapshot from Publisher. Refer to the original content for accurate info. Contact us for any changes.
Comments