Caely, Petronas Chemicals, Hextar Industries, UMW, Datasonic, Zhulian, Pesona Metro, Opensys, Mobilia and G Capital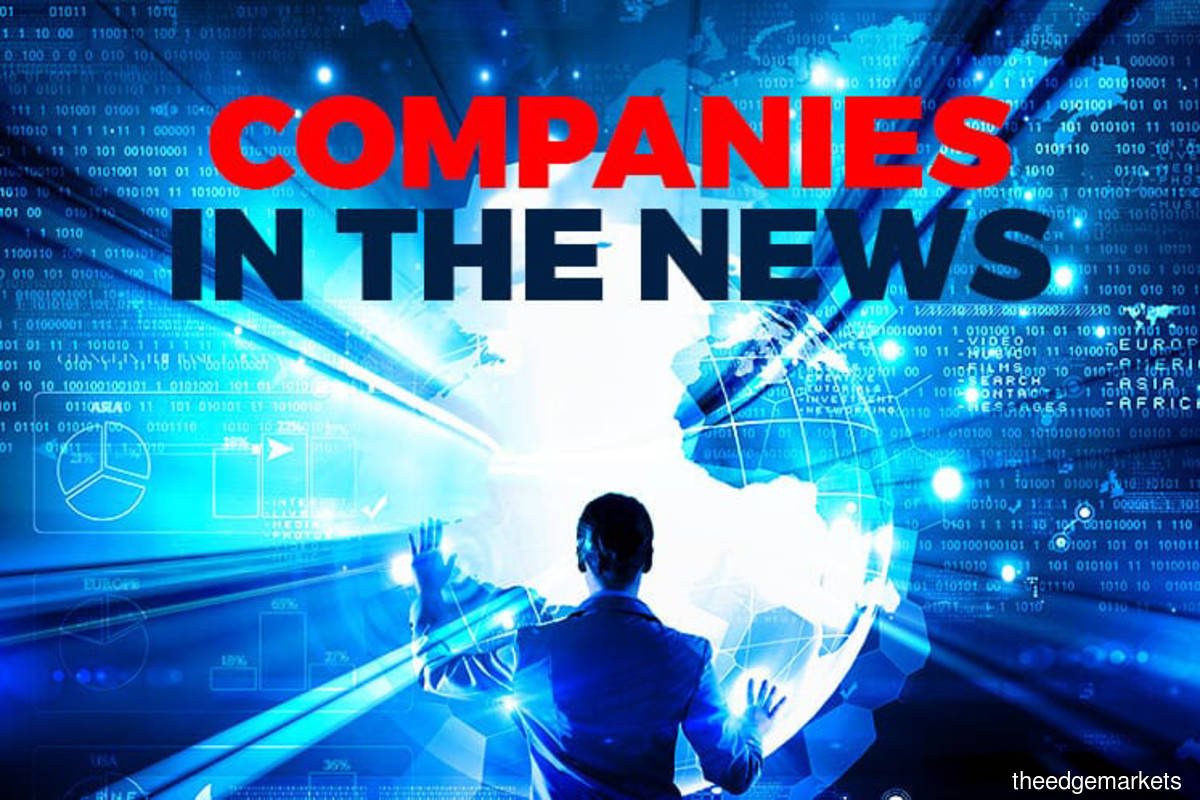 KUALA LUMPUR (Oct 12): Here is a brief recap of some corporate announcements that made news on Wednesday (Oct 12), involving Caely Holdings Bhd, Petronas Chemicals Group Bhd, Hextar Industries Bhd (HIB), UMW Holdings Bhd, Datasonic Group Bhd, Zhulian Corp Bhd, Pesona Metro Holdings Bhd, OpenSys (M) Bhd, Mobilia Holdings Bhd and G Capital Bhd.
Caely Holdings Bhd founder and former non-executive director Datin Fong Nyok Yoon has withdrawn her suit against the company and six former directors "without liberty to file afresh and at no cost". No reasons were given for the withdrawal from Fong, who owns a 7.38% stake in the Perak-based lingerie manufacturing company. On April 26, Caely announced that it had received an originating summons filed at the Shah Alam High Court by Fong, seeking to prohibit the former directors from allotting and issuing new shares in the company through a private placement exercise pursuant to the resolution passed at Caely's annual general meeting (AGM) held on Sept 22, 2021. The named defendants then were former executive chairman Datuk Wira Louis Ng Chun Hau, former executive director and former chief executive officer Lim Chee Pang, former non-executive directors Lim Say Leong, Beh Hong Shien, Noor Azri Noor Azerai and Datuk Seri Mazlan Lazim, and the company.
Petronas Chemicals Group Bhd has completed its acquisition of Perstorp Holding AB for RM7.31 billion. The group said the acquisition was completed on Tuesday (Oct 11), and that Perstorp is now its unit. Petronas Chemicals in May signed a securities purchase agreement with Financière Forêt S.à.r.l, a company under PAI Partners, a European private equity firm, to acquire the entire equity interest in Perstorp, a sustainability-driven global specialty chemicals company based in Sweden.
Hextar Industries Bhd (HIB) has received shareholders' approval to acquire the entire equity interest in Hextar Fertilizers Ltd (HFL) from Hextar Holdings Sdn Bhd (HHSB) for RM480 million. HHSB is the parent company of HIB and HFL; it holds a 45.7% stake in HIB, besides owning 100% of HFL. Through this acquisition, HFL will become a wholly-owned subsidiary of HIB. The purchase will be satisfied via an issuance of 1.6 billion new shares in HIB at an issue price of 30 sen a share. The issuance of shares will result in HHSB's shareholdings increasing from 45.7% to 77.3%, triggering a mandatory takeover offer that will be facilitated by M&A Securities Sdn Bhd. Datuk Eddie Ong Choo Meng, the major shareholder and director of HIB and HHSB, said the injection of the HFL comes with a profit guarantee of an aggregate of RM94 million over two years, thus providing assurance of HIB's profitability in the near term. 
Malaysia Digital Economy Corporation's (MDEC) former chief executive officer Datuk Yasmin Mahmood has joined the board of UMW Holdings Bhd. She has been appointed as an independent and non-executive director of the automotive group with effect from Wednesday. 
Security-based ICT solutions provider Datasonic Group Bhd has appointed two new directors to its board. The independent and non-executive directors are Tan Sri Borhan Dolah, who currently serves as chairman of the Malaysian Anti-Corruption Commissions Consultation and Corruption Prevention Panel, and Aurelius Technologies Bhd's  independent non-executive chairperson Datin Normaliza Kairon. 
Multi-level marketing group Zhulian Corp Bhd recorded a net profit of RM7.65 million for the third quarter ended Aug 31, 2022 (3QFY22), down 20.06% from RM9.57 million in the same quarter last year, on lower revenue amid weak consumer sentiment, coupled with the impact of the Covid-19 pandemic and rising inflation. Revenue in 3QFY22 fell 10.13% to RM32.96 million, from RM36.67 million in 3QFY21. Nonetheless, the group declared a three sen dividend for its shareholders, with an ex-date of Nov 8, to be paid on Dec 7. For the cumulative nine months ended Aug 31, Zhulian's net profit grew 26.78% to RM41.47 million, from RM32.71 million in the previous year. This was despite revenue falling 10.46% to RM103.92 million, from RM116.06 million. 
Pesona Metro Holdings Bhd's unit has secured a RM154.67 million contract for the main building works of a 28-storey condominium project in Cyberjaya for Lakefront Residence Sdn Bhd, a wholly-owned subsidiary of MCT Bhd. Its wholly-owned unit Pesona Metro Sdn Bhd accepted the letter of award for this project, which has a duration of 24 months commencing from Oct 25, from ONG&ONG 360 Consultancy Sdn Bhd.
Financial services, telecommunications, and utilities solutions provider OpenSys (M) Bhd is banking on a rebound in its cash recycle machine (CRM) business segment to drive earnings growth. OpenSys chief executive officer Eric Lim said the CRM business, which contributes up to 30% of its total revenue, rebounded strongly in the last four quarters, following a "pause" due to the Covid-19 pandemic. The group claims a lion's share of over 80% of Malaysia's CRM market. OpenSys hopes to attract institutional investors such as the Employees Provident Fund (EPF) and Permodalan Nasional Bhd to invest in the company, following the transfer of its listing on Wednesday from the ACE Market to the Main Market of Bursa Malaysia Securities Bhd.
Mobilia Holdings Bhd has secured approval from the Securities Commission Malaysia (SC) for the transfer of its listing to the Main Market of Bursa Malaysia. The home furniture maker was listed on the ACE Market on Feb 23, 2021.
G Capital Bhd has been appointed as a non-revenue water (NRW) specialist for a project in Kota Samarahan, Sarawak. G Capital said its 51%-owned subsidiary G Capital Water Solutions Sdn Bhd had received a letter of award from main contractor Exxor Technologies Sdn Bhd on Tuesday, appointing the unit as an NRW specialist for a "70km leak detection and pipe inspection" for the Sarawak Rural Water Supply Department.
The content is a snapshot from Publisher. Refer to the original content for accurate info. Contact us for any changes.
Related Stocks
Comments