Caely, Litrak, Globetronics, Orientel Interest, SCIB, Ni Hsin, Tanco, Yew Lee, Sunview, Advancecon, ILB, Mulpha and Ornapaper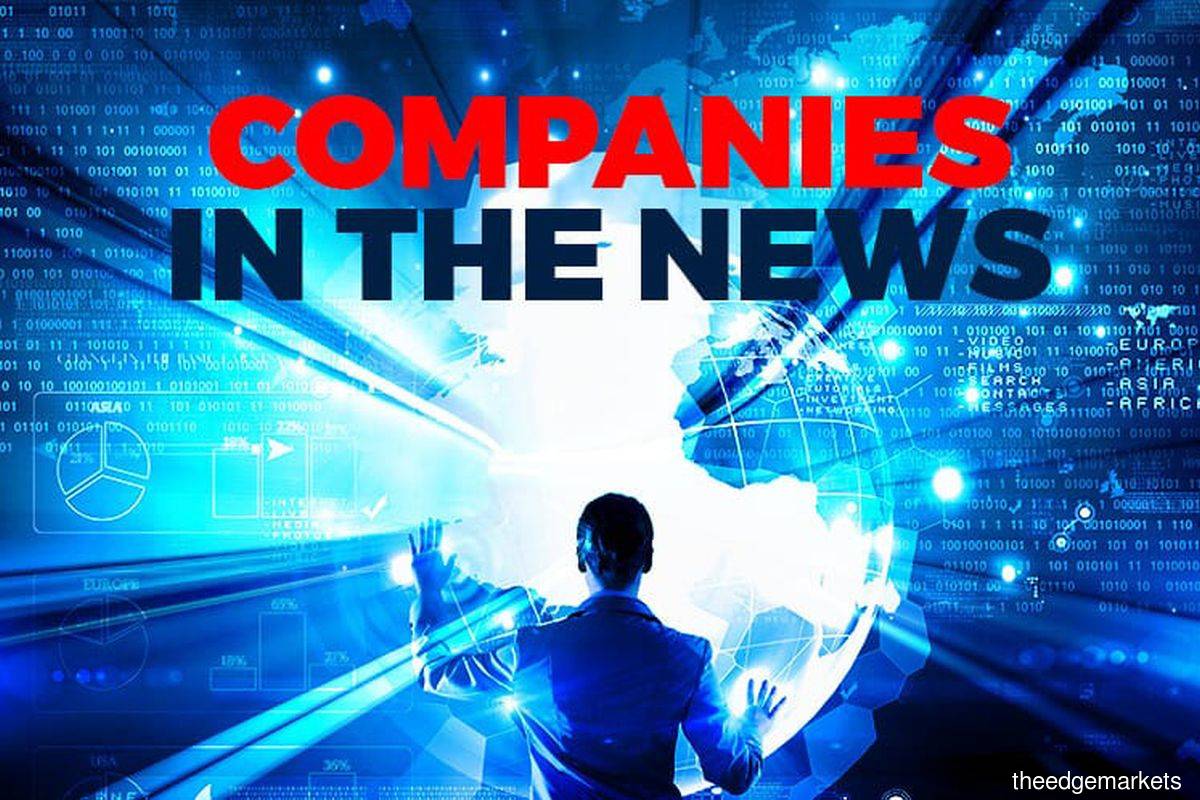 KUALA LUMPUR (Oct 25): Here is a brief recap of some corporate announcements that made news on Tuesday (Oct 25), involving Caely Holdings Bhd, Lingkaran Trans Kota Holdings Bhd (Litrak), Globetronics Technology Bhd, Oriental Interest Bhd (OIB), Sarawak Consolidated Industries Bhd (SCIB), Ni Hsin Group Bhd, Tanco Holdings Bhd, Yew Lee Pacific Group Bhd, Sunview Group Bhd, Advancecon Holdings Bhd, ILB Group Bhd, Mulpha International Bhdand Ornapaper Bhd. 
Perak-based lingerie and apparel manufacturer Caely Holdings Bhd has been issued with another requisition notice to convene an extraordinary general meeting. However, the company did not disclose reasons for the requisition. Caely said it received the notice dated Oct 21 from Messrs Ahmad Deniel, Ruben & Co, which represents the company's former executive vice-chairman Datin Seri Jessie Wong Siaw Puie, and four others ― Zhang Jia, Leow Boon Kin, Datuk JP Low Kok Chuan and Cheng Kwee.
Lingkaran Trans Kota Holdings Bhd (Litrak) has announced a special dividend of RM4.57 per share, after completion of the disposal of two highway concessionaires under its purview to Amanat Lebuhraya Rakyat Bhd. The special dividend's ex date is Nov 10, with entitlement on Nov 11. Payment will be received on Nov 18.
Globetronics Technology Bhd's net profit for the third quarter ended Sept 30, 2022 (3QFY22) fell 21.4% to RM12.78 million, down from RM16.27 million a year ago, mainly on lower volume loadings from some of the group's customers. Quarterly revenue declined 17.3% to RM46.03 million, down from RM55.66 million in the same period a year ago. For the cumulative nine months ended Sept 30 (9MFY22), Globetronics' net profit slipped 4.7% to RM33.42 million from RM35.06 million, as 9MFY22 revenue reduced by 13.4% to RM136.3 million from RM157.46 million in the same period last year. 
Separately, Globetronics announced the retirement of its 74-year-old founder Michael Ng Kweng Chong, who has resigned as the group's executive chairman, effective Nov 1. Succeeding him as executive chairman will be his 46-year-old son Ng Kok Yu. 
Oriental Interest Bhd (OIB) recorded a more-than-five-fold jump in net profit to RM27.64 million or 5.95 sen per share for the fourth quarter ended Aug 31, 2022 (4QFY22), from RM5.12 million or 1.37 sen per share in the previous year's corresponding quarter, driven by higher earnings in property development and general construction segments. Quarterly revenue for the quarter surged 155% to RM154.66 million, from RM60.74 million. It declared an interim single tier dividend of five sen per share, to be paid on Dec 30. For the full year (FY22), OIB posted a 44.6% jump in net profit to RM78.27 million from RM54.115 million, as revenue rose 37.2% to RM475.7 million from RM346.795 million.
Sarawak Consolidated Industries Bhd (SCIB) has redesignated Shamsul Anuar Ahamad Ibrahim as its independent non-executive chairman with immediate effect. He replaces Datuk Dr Mohd Abdul Karim Abdullah, who has been redesignated as a non-independent and non-executive director.
Premium cookware manufacturer Ni Hsin Group Bhd, which diversified into the food & beverage business in March last year, has made a further business diversification into the electric vehicle (EV) business. Ni Hsin said its wholly-owned subsidiary Ni Hsin EV Tech Sdn Bhd has received vehicle type approvals from the Road Transport Department for the TAILG BOLD and TAILG TORQ (EBIXON EV bikes) two-wheel EV models, in the personal and commercial categories. 
Property developer Tanco Holdings Bhd has proposed to raise RM100 million through an allotment of 100 million redeemable preference shares of RM1 each to the Social Security Organisation (Socso). The funds raised will be used for working capital, investments and targeted expansion of the companies within Tanco and its subsidiaries. It had signed a term sheet with Socso for the proposed RPS subscription by Socso
Yew Lee Pacific Group Bhd has proposed a bonus issue of warrants on the basis of one warrant for every two existing ordinary shares, on an entitlement date to be determined later. The exercise entails the issuance of 266.22 million warrants, based on Yew Lee's total issued share capital of RM67.53 million, comprising 532.4 million ordinary shares as of Oct 3 (latest practicable date, a.k.a. LPD).  
ACE Market-listed Sunview Group Bhd has clinched a RM93.83 million engineering, procurement, construction and commissioning  contract for the development of a 26-megawatt large-scale solar photovoltaic (PV) plant in Kuala Langat, Selangor. The newly-listed solar PV construction player said the contract was awarded to the group's wholly-owned subsidiary Fabulous Sunview Sdn Bhd from LSS TPG Sdn Bhd, a unit of Advancecon Holdings Bhd.
Advancecon Holdings Bhd's 51%-owned indirect subsidiary Spring Energy Sdn Bhd is disposing of a piece of land in Kedah to plastic packaging manufacturer Thong Guan Industries Bhd for RM34 million or RM9.95 per sq ft. 
BT Capital Investment Ltd is contemplating proceeding with its suit against ILB Group Bhd and its board of directors to block the purchase of a commercial land, despite the fact that the transaction was already called off. ILB had attempted the acquisition using the 20% general mandate that was intended to improve cash flow, boost liquidity and working capital. BT Capital Investment, a minority shareholder in logistics company ILB, claimed the acquisition would have diluted the stakes of existing shareholders and that the ILB board misled minority shareholders by not announcing material information immediately. 
Independent adviser MainStreet Advisers Sdn Bhd has advised shareholders of Mulpha International Bhd to reject the unconditional voluntary takeover bid of the group by several joint offerors, deeming the offer price of RM2.30 per share as "not fair and not reasonable". MainStreet Advisers said based on the revalued net asset value approach, the offer price per share represents a discount of RM14.92 or 86.64% to the estimated value of Mulpha share of RM17.22 apiece.
Minority shareholders of Ornapaper Bhd, one of the country's largest manufacturers of corrugated boards and cartons, have been also advised by MainStreet Advisers to reject the mandatory takeover offer launched by its substantial shareholders, Sai Ah Sai, Sai Han Siong, Sai Chin Hock and persons acting in concert, who collectively hold 33.01% of Ornapaper shares, to acquire the remaining shares at RM1.06 each or RM52.69 million. MainStreet Advisers said the offer is not fair, after taking into consideration that the offer price represents a discount of RM1.52 or 58.91% to the net assets per Ornapaper share of RM2.58. 
The content is a snapshot from Publisher. Refer to the original content for accurate info. Contact us for any changes.
Related Stocks
Comments