No respite for glove stocks even though pandemic rampant in China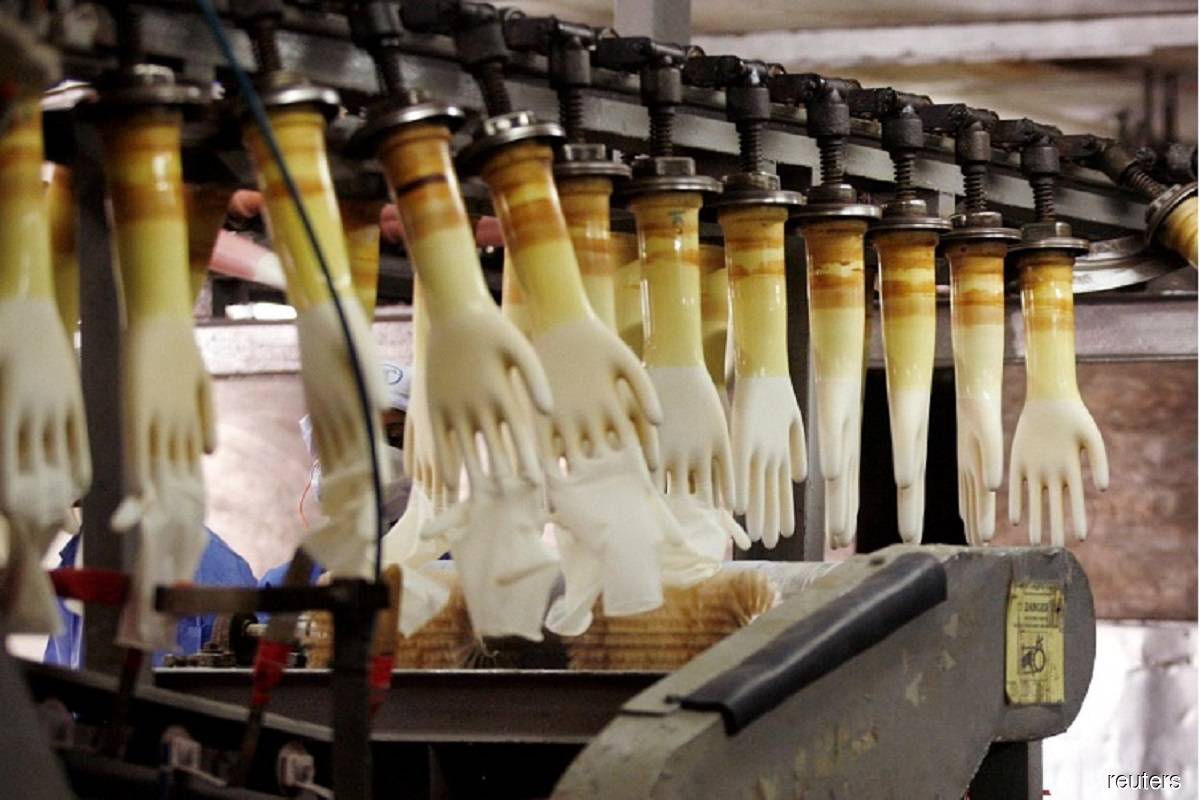 KUALA LUMPUR (Jan 4): Owing to a massive glut of glove supplies, glove stocks are unlikely to see a price uptick even though China is grappling with its biggest wave of Covid-19 infections following its sudden decision to ease draconian pandemic-related restrictions last month.
Analysts believe that China's spike in cases will not improve the fundamentals of local glove stocks in the short term as the sector still faces industry-wide headwinds caused by an acute oversupply and margin compression, which has resulted in low average selling prices.
When contacted, Rakuten Trade Sdn Bhd vice president of equity research Thong Pak Leng said Malaysia's glove players will not benefit from the rapid spread of Covid-19 cases as China itself has sizeable glove production. Moreover, local glove players seldom sell their gloves to China because prices in China are even lower.  
Hence, he expects the domestic glove industry to continue to face oversupply issues given their excessive inventory.
BIMB Securities Research analyst Nursuhaiza Hashim said it is still too early to gauge the outcome of China's latest move.
"It might have some knee-jerk reaction on share price if cases spike, but I am still wary to say the glove outlook will improve. Demand may slightly improve, but the current inventory level is enough to cater to [the market demand]," she added.
Nursuhaiza also expects the oversupply to remain as she believes the rising number of cases will not be as high as in the earlier phase of the pandemic because vast numbers of the population have been vaccinated.
Going forward, Nursuhaiza projects that the average selling price (ASP) for gloves will remain at the current level — averaging at US$17 (RM74.82) to US$20 per 1,000 pieces — given the stiff competition from Chinese glove makers as well as normalising demand due to the transition from pandemic to endemic.
As such, she expects earnings growth for the rubber glove sector to be lacklustre at least until the first half of 2023 (1H2023), as there are no signs of ASPs bottoming out, not to mention higher operating costs.
Malacca Securities Sdn Bhd head of research Loui Low Ley Yee said as much of the global population now is vaccinated compared to during the early stages of the outbreak in 2020, he does not foresee ASPs repeating the trend and peak of 2020.
However, he thinks the downside risks are now limited for the sector and recommends that investors relook at beaten-down glove stocks "as it is almost near the turning point".
"The [China] Covid-19 spike in cases might be the catalyst and we may accumulate now as it is downside risk limited. I think glove supply and demand will hit equilibrium this year and expect a rise in overall gloves ASP into 2023."
Both BIMB's Nursuhaiza and Rakuten Trade's Thong, however, are "underweight" on the sector as they believe it is not out of the woods yet.
Nursuhaiza said she maintained an "underweight" recommendation given the challenging operating environment which is expected to prolong in the foreseeable future. BIMB had "sell" calls on Hartalega Holdings Bhd (target price [TP]: RM1.70), Kossan Rubber Industries Bhd (TP: 95 sen), Top Glove Corp Bhd (TP: 58 sen) and Supermax Corp Bhd (TP: 60 sen).
At market close, Top Glove fell 0.5 sen or 0.58% to 86 sen, giving the company a market capitalisation of RM7.06 billion. Some 35.77 million shares were traded.
Hartalega shares ended five sen or 3.01% lower at RM1.61, which translates to a market capitalisation of 5.52 billion. Supermax dropped 1.5 sen or 1.76% to settle at 83.5 sen, and Kossan declined four sen or 3.64% to RM1.06.
Some of their smaller counterparts were also trading lower with Careplus Group Bhd down 2.5 sen or 5.26% to close at 45 sen, while Comfort Gloves Bhd had dropped one sen or 2.11% to end at 46.5 sen.
Hextar Healthcare Bhd, previously known as Rubberex Corp Bhd, rose marginally by 0.5 sen or 1.37% to settle at 37 sen.
The content is a snapshot from Publisher. Refer to the original content for accurate info. Contact us for any changes.
Related Stocks
Comments