Cover Story: From old industrial area to vibrant locality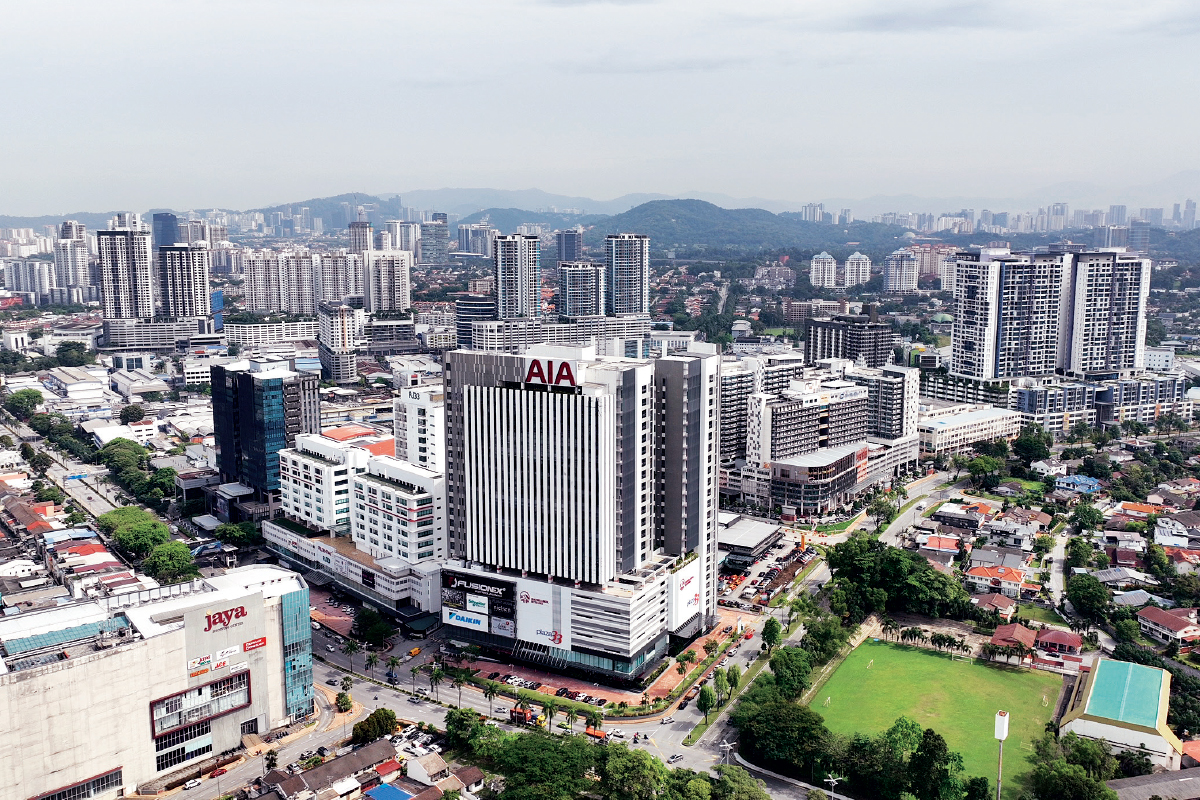 Initially an industrial enclave, Section 13 is one of the last few tracts in Petaling Jaya that are still available for redevelopment, thanks to a rezoning exercise carried out more than a decade ago. Landmarks of the area include the Rothmans Roundabout at the intersection of Jalan Professor Khoo Kay Kim (formerly known as Jalan Semangat), Jalan Profesor Diraja Ungku Aziz (formerly known as Jalan Universiti) and Jalan Harapan.
Some of the recent land transactions are the purchase of Dutch Lady Milk Industries Bhd's 9.93-acre leasehold factory parcel and buildings by UEM Sunrise Bhd — to be redeveloped into a RM1.3 billion mixed-use project — and the sale of the former Sinalco and Kickapoo Joy Juice bottling factory site to Penang-based GSD Land (M) Sdn Bhd. They are located across from each other on Jalan 13/6.
The bottling factory site was reportedly transacted at RM46 million, or RM514 psf — a new high for transactions of industrial land (now rezoned for mixed-use commercial developments) in the area.
Bounded by Jalan Professor Khoo Kay Kim, Jalan Profesor Diraja Ungku Aziz and Jalan Kemajuan, Section 13 is known to be part of Petaling Jaya's "church belt", owing to the number of churches there. The area also has automobile showrooms and two hospitals (Columbia Asia Hospital Petaling Jaya and ReGen Rehab Hospital).
Over the past 10 years, the landscape of Section 13 has changed significantly, giving way to more mixed-use developments. Most of the parcels on Jalan Professor Khoo Kay Kim, Jalan Profesor Diraja Ungku Aziz and Jalan Kemajuan have been developed. The most recent completed offerings are ATWATER by Paramount Property Development Sdn Bhd and Ryan & Miho by OSK Property, both on Jalan Profesor Diraja Ungku Aziz.
ATWATER comprises two serviced apartment towers and two office towers. The serviced apartment buildings — which are fully sold — have been completed and the developer is in the process of handing over the units to the purchasers.
ATWATER comprises a total of 493 serviced apartments ranging from the smaller 670 sq ft and 703 sq ft units to those with larger built-ups of 853 sq ft to 1,422 sq ft. Most units have a semi-detached design, offering natural ventilation in the bathrooms and yard area. The facilities include a swimming pool, fitness centre, badminton court, basketball court, an exercise station, a reflexology path and yoga pavilions nestled in a communal garden.
The office towers are under construction and slated for completion by 3Q2023.
Office market sees movement from older to newer buildings
While the new projects in Section 13 are mainly mixed-use developments, the area has few new office components.
Henry Butcher Real Estate Sdn Bhd chief operating officer Tang Chee Meng notes that offices in the mixed-use development areas in Section 13 — such as centreSTAGE and Jaya One — were mostly sold on a strata basis. There are also a few single-owner office buildings available for rent, including PJ33.
"Occupancy rates are mixed, with single-owner office buildings that have more modern facilities and specifications doing better than strata-titled offices. Rental rates have been fairly stable," he says.
According to Nawawi Tie Leung Sdn Bhd managing director Eddy Wong, only a handful of office transactions have been recorded in Section 13. Based on announcements by public-listed companies, Luxchem Corp Bhd bought Block N in Jaya One for RM696 psf in April 2022; and Excel Force MSC Bhd sold an 18,988 sq ft office at Plaza 33 for RM825 psf in March 2018, with an existing tenancy at a rental rate of RM5 psf.
Some of the current asking rents observed in Section 13 are between RM2.80 and RM3.50 psf at the Jaya One offices, and around RM5.50 psf on average at PJ33, he notes.
Meanwhile, Henry Butcher's Tang has observed some newer office buildings with more superior facilities offering tenants attractive packages, which has resulted in businesses relocating there and vacating their offices in older buildings.
He says while the owners of the new buildings may lose out in terms of net rental collections at the beginning, it helps them gain more tenants and increase their occupancy rate. They can push up the rentals closer to the market rate once the tenancies are due for renewal.
According to data from Henry Butcher, the rental rates for office space at PJ33 have hovered from RM3.40 to RM13 psf (depending on the tower, floor level and unit size) since 2016.
In terms of transactions, office units in purpose-built office buildings at Jaya One were transacted at RM521 to RM669 psf, based on three deals in 2022. From 2018 to 2021, these office units at Jaya One were priced at RM361 to RM796 psf, according to the data.
Nawawi Tie Leung's Wong notes that the office sector in the Klang Valley is expected to remain challenging in the near term as the oversupply of office space may take some time to normalise. "Occupiers are moving from older office buildings to the newer office buildings, owing to the large stock of newly completed offices," he explains.
Tang says although the office market in the area may see challenges in the short term in view of the abundance of office supply in relation to demand, "in the longer term, with the decentralisation of offices away from the congested and more expensive city centre, demand and therefore occupancy rates of offices in the area could pick up".
Knight Frank Malaysia executive director of corporate services Teh Young Khean says the occupancy rate of office space in Selangor has remained relatively stable at an average of 77%, despite an increase of 19.8% in supply over the last five years.
"There is a change in preference for businesses to be located in Greater Kuala Lumpur. Factors supporting this observation include lower rental and operating cost, easier accessibility and less commuting time between home and workplace, proximity to a wider talent pool as well as the availability of prime, Grade A and green office buildings off city centre areas."
In 2022, Selangor recorded 26 million sq ft of office space, of which more than 58.5% was located in Petaling Jaya, notes Teh. He says the high demand for office space in Petaling Jaya can be attributed to its strategic location, amenities, accessibility, public transport and easy access to the talent pool — all of which are expected to catalyse the city's potential for business operations.
Teh also notes that over the last five years, Petaling Jaya has seen an increase of 36.9% in office space supply and a marginal drop of 9.1% in occupancy rate. Like Tang and Wong, he has also observed a preference for businesses to move from older office buildings to Grade A, Multimedia Super Corridor (MSC)-status and green-accredited office buildings for lower and more efficient operating cost, as ageing buildings are unable to provide the latest office requirements.
"This movement from old buildings to newer ones offering amenities suitable for a modern, sustainability-minded and technology-driven business has led to high take-up rates at newer office buildings," says Teh. He adds that more tenants are expressing a keen interest in green buildings because of increasing environmental, social and governance (ESG) awareness.
According to Teh, office rents in KL and Selangor have been stable over the last five years. "Occupiers have a strong preference for Grade A, MSC-status and green-accredited buildings and their landlords should expect a steady income stream. Generally, it has been observed that purpose-built office buildings that [meet these requirements] command higher monthly asking gross rental rates ranging from RM5 to RM6 psf. Meanwhile, the rental rate for Grade B offices ranges from RM4.50 to RM6 psf.
"Petaling Jaya has recorded the highest rental rates, with rents stabilising and returning to pre-Covid-19 [levels]," he adds.
Mixed-use developments bring vibrancy to the area
According to Nawawi Tie Leung's Wong, the new developments in Section 13 comprising mostly mixed-use developments with high-rise residential towers have brought in a younger demographic of purchasers and occupiers. This has resulted in a revival of commercial activities targeting this new and growing population segment.
"The residential developments have been reasonably well received due to their central location. People tend to buy in places that they are familiar with or where their parents live, especially if they have young children. As Petaling Jaya is a mature township, the choice of properties available was previously limited to old terraced houses, but, now, there are brand-new condominiums available that align with the lifestyle preferences of the younger generation," he says.
"The availability of amenities, such as eateries and supermarkets, and the connectivity of the location with easy access to three major highways — Federal Highway, Sprint Highway and LDP (Lebuhraya Damansara-Puchong) — add to the appeal of this location."
Tang notes that house buyers in Section 13 are mostly singles or small families with young children from the middle- to upper-middle-income groups. Predominantly Chinese and working in nearby areas in Petaling Jaya and Kuala Lumpur, they are mostly owner-occupiers.
"Residential and serviced apartments priced between RM500,000 and RM1 million are the most popular in this area," he adds.
Retail performance
While the retail segment in Section 13 reflects the overall lacklustre retail scene in the Klang Valley, Wong emphasises the importance for retail developments to have a unique proposition or product positioning that caters for a niche market in order to be successful.
Lifestyle and niche developments such as Gasket Alley, adjacent to Columbia Asia Hospital Petaling Jaya and diagonally across from Jaya One on Jalan 13/6, seem to be doing well, he notes, adding that such products exemplify the type of developments that have the potential to thrive.
According to Henry Butcher Shopping Centre Consultants Sdn Bhd managing director Tan Hai Hsin, retail oversupply has been the main cause of the poor take-up rates of retail spaces at mixed-use developments in Section 13.
For example, he notes that the retail lots at the inner part of centreSTAGE have been suffering from poor occupancy rates. 
"The multiple ownership has led to low chances of the retail area being revived." However, he adds that the front portion is well occupied.
"There are several other mixed-use developments in the area with relatively good occupancy rates. A few retail lots in the mall in Pacific Star are occupied. Several shops in PJ Midtown are also occupied," says Tan.
The performance of the majority of retail shops in Section 13 depends on the large pool of office workers in the area. Those with supermarkets also attract residents from nearby housing schemes, especially on weekends.
Tan says retail shops in mixed-use developments compete mostly with shopping centres, rather than conventional shopoffices. Most retail developments in Petaling Jaya, he adds, suffer from low footfall due to intense competition from mega malls nearby, such as 1 Utama Shopping Centre, Sunway Pyramid and Paradigm Mall.
"The nearby SS2 has a large concentration of shopoffices with surface parking lots. Shoppers prefer this shopping destination, owing to its direct access from the parking lots. On weekdays after working hours and on weekends, these parking lots are free and shoppers going out to buy a few things or have a quick meal find this more convenient than driving into big malls to find parking," he says.
Challenges and the future
Property consultants cite traffic congestion and the lack of public transport amenities in Section 13 as a main challenge, with the nearest light rail transit station (Asia Jaya LRT station) situated 4km away. There are also limited parking space, open space and recreational parks, all of which are necessary in a residential area.
Wong notes that another challenge is that the land in Section 13 is leasehold. "This is not a major obstacle, however, as there are other positives such as its central location, access to amenities and connectivity that balance out this concern."
Nevertheless, property consultants share a positive outlook on the future prospects of Section 13, thanks to its strategic location in Petaling Jaya. Wong believes that once all of Section 13 is fully redeveloped, it will be transformed into a premium neighbourhood just like Mont'Kiara. "The increase in population, especially the younger demographic with strong spending power, will provide the support for the commercial activities here," he says.
Tang points out that the MBPJ Special Area Plan (Rancangan Kawasan Khas) for Section 13 is slated to bring improvements to the locality.
The proposed improvements include landscaping and amenities for a walkable concept with shaded pedestrian areas, interconnected lanes, streets and linked bridges, public green areas and water elements; existing multiple monsoon drains transformed into walkable riverside linear parks to attract leisure activities; and seven locations with a total size of 0.9 acres being designated as an "urban oasis".
"With the redevelopment plan drawn up by the local council and rezoning of the area into commercial, the future prospects of Section 13 look bright, as the area will be revitalised, with the conversion and redevelopment of the old and dated factories into modern commercial, retail and office complexes as well as serviced apartments," says Tang.
"The revitalisation and gentrification of the area will also make it more attractive for residents from other parts of PJ and even KL to move in to start a business or set up their home. The long-term prospects appear good but, in the short term, the retail and office lots will suffer low occupancy rates until the oversupply improves."
With the improvement plans of the local authorities and private developers' interest in rejuvenating this area, Section 13 Petaling Jaya is slated to become a new hotspot.
The content is a snapshot from Publisher. Refer to the original content for accurate info. Contact us for any changes.
Related Stocks
Comments