The biggest movers on Bursa Malaysia in 2023 thus far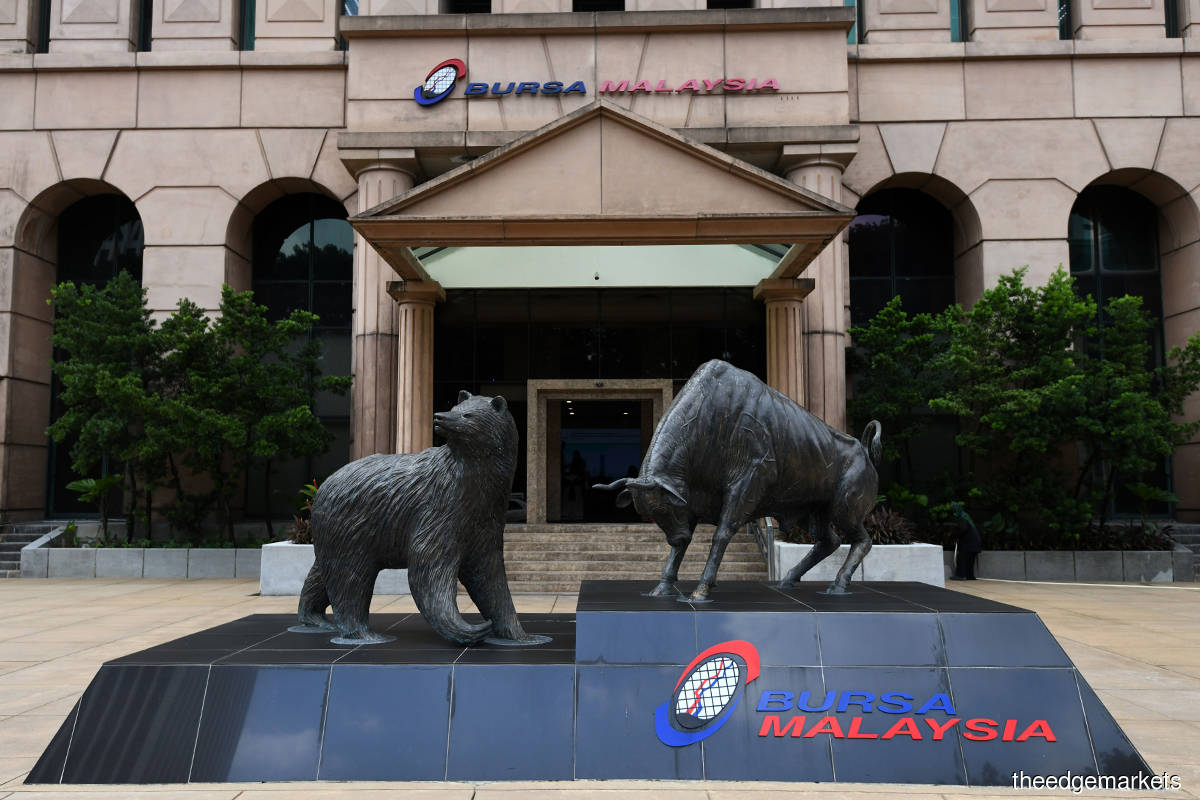 KUALA LUMPUR (May 10): Telecommunication companies (telcos) fared well over the past four months of 2023 on the back of the unity government's review of Malaysia's 5G rollout, which culminated with an opportunity for players to take a more direct role in the nation's 5G infrastructure with a shift to a dual wholesale network (DWN) model in 2024.
Meanwhile, banks — after enjoying a good run in 2022, thanks to the high-interest environment — have since posted negative returns year-to-date (YTD) as at Wednesday's (May 10) close. It is worth noting Bank Negara Malaysia's recent decision to hike the overnight policy rate (OPR) by 25 basis points to 3% last week.
Looking at indices, the Bursa Malaysia Telecommunications & Media Index has risen 6.01% YTD, which eclipsed the FBM KLCI's 4.67% decline, while the Financial Services Index was behind the bellwether index with a 5.47% fall.
In fact, most indices eclipsed the KLCI thus far, including the Property Index (9.15%), Utilities Index (9.13%) and Energy Index (7.35%). Joining the Financial Services Index behind the benchmark index were the Industrial Products & Services (-6.73%) and Technology Index (-6.11%).
KLCI constituents: Telcos top the pile, most banks dyed in red
Looking at Bursa Malaysia's heavyweights — KLCI component stocks and companies with market capitalisations above RM10 billion — telcos were among the top.
TIME dotCom Bhd led the pack thus far in 2023 with a 15.18% or 74 sen gain to close at RM5.62, followed by Maxis Bhd with a 15.1% or 58 sen climb to RM4.42. In fifth spot was CelcomDigi Bhd, which rose 10% or 40 sen to RM4.40.
Back in April, TIME dotCom completed a RM2 billion disposal of its 49% stake in AIMS Data Centre Holdings and 21% in AIMS Data Centre (Thailand) Ltd to US infrastructure investor DigitalBridge Group as part of a partnership deal to further grow its data centre business. The disposal gave way to a special dividend of 54.4 sen per share.
Meanwhile, diversified group Hap Seng Consolidated Bhd was the worst performer among companies with market capitalisation above RM10 billion so far. The stock fell 24.69% or RM1.58 to RM4.82, translating to a market capitalisation of RM12 billion.
Banks slotted among the losers with CIMB Group Holdings Bhd (down 13.45% or 78 sen to RM5.02), AMMB Holdings Bhd (down 13.29% or 55 sen to RM3.59), Public Bank Bhd (down 7.64% or 33 sen to RM3.99), RHB Bank Bhd (down 5.01% or 29 sen to RM5.50), and Hong Leong Bank Bhd (down 2.53% or 52 sen to RM20.04).
It is also worth noting that Telekom Malaysia Bhd (TM) was among the category's losers with a 5.19% or 28 sen drop to RM5.12, while Malayan Banking Bhd (Maybank) was unchanged at RM8.70.
RM1 bil to RM10 bil: WCE rises to billion-ringgit club, Hextar falls
Among companies with market capitalisations between RM1 billion and RM10 billion, highway concessionaire WCE Holdings Bhd led gainers with a 65.57% or 20 sen climb to 51 sen, to become a billion-ringgit company with a market capitalisation of RM1.51 billion.
Property developers including Eco World International Bhd (up 52.56% or 21 sen to 60 sen), privatisation target Boustead Holdings Bhd (up 36.8% or 23 sen to 86 sen), YNH Property Bhd (up 19.15% or 81 sen to RM5.04), and Eco World Development Group Bhd (up 16.28% or 11 sen to 75 sen) were among the top gainers in this segment.
Just behind WCE were Pertama Digital Bhd (up 57.39% or RM1.01 to RM2.77), Velesto Energy Bhd (up 56.67% or nine sen to 24 sen), and YTL Power International Bhd (53.85% or 39 sen to RM1.10).
At the other end, two of Hextar Group's companies were among the top losers. Hextar Industries Bhd was bottom of the barrel with a 42.86% or 33 sen fall to 44 sen, while Hextar Global Bhd dropped 14.47% or 11 sen to 65 sen.
Notably, Bank Islam Malaysia Bhd and Alliance Bank Malaysia Bhd — like their KLCI component banking counterparts — were also among the top losers, down 27.11% or 74 sen to RM1.99, and 9.54% or 35 sen to RM3.32 respectively.
 RM500 mil to RM1 bil: AAX soars, EG Industries joins with triple-digit return
Medium-haul low-cost airline AirAsia X Bhd (AAX) led the RM500 million to RM1 billion market capitalisation category, as its share price climbed 149.12% or 85 sen to RM1.42, valuing the company at RM589.04 million.
Close behind was electronics manufacturing services provider EG Industries Bhd with a 135.19% or 73 sen rise to RM1.27. Lim Seong Hai Capital Bhd took third spot with a 76% or 38 sen climb to 88 sen.
Cypark Resources Bhd, which saw the emergence of Jakel as its substantial shareholder earlier this year, was among the top gainers, rising 64.89% or 31 sen to 78 sen.
Decliners were led by Hong Seng Consolidated Bhd (down 47.73% or 11 sen to 12 sen), followed by Senheng New Retail Bhd (down 28.93% or 18 sen to 43 sen) and Shin Yang Shipping Corp Bhd (down 26.17% or 20 sen to 55 sen).
RM100 mil to RM500 mil: SMRT leads, Salutica just behind amid legal buzz
Of companies valued between RM100 million and RM500 million, the category was led by potential pure-play Internet of Things solutions provider SMRT Holdings Bhd (up 310.34% or 45 sen to 59.5 sen), followed by Salutica Bhd (up 247.17% or 66 sen to 92 sen), and MMIS Bhd (up 138.1% or 29 sen to 50 sen).
It is worth noting that Salutica is embroiled in a legal battle with Apple Malaysia Sdn Bhd, where the Ipoh-based electronics component maker is suing for damages over Apple's alleged patent infringement. Meanwhile, asset-rich Pelikan International Corp Bhd followed just behind with a 101.33% or 37.5 sen rise to 75.5 sen.
In terms of ringgit gains, gainers were led by Paragon Union Bhd (up RM1.19 or 63.98% to RM3.05), Salutica and Menang Corp (M) Bhd (up 47 sen or 97.89% to 94 sen).
Decliners were led by shareholder tussle-mired Bahvest Resources Bhd (down 62.3% or 19 sen to 12 sen), former shareholder bout troubled Revenue Group Bhd (down 54.07% or 37 sen to 31 sen), and EP Manufacturing Bhd (down 49.25% or 49 sen to 50.5 sen).
New listings: ACE Market's NationGate and TT Vision best-performing thus far
Peering at the 10 companies that listed on Bursa Malaysia this year so far, eight saw their share price remain above their initial public offering price, while the other two fell below.
The best-performing new listing was ACE Market-listed NationGate Holdings Bhd, which leapt 226.32% or 86 sen — from its initial public offering (IPO) price of 38 sen — to RM1.24, raising its market capitalisation from RM788.09 million to RM2.57 billion.
This was followed by ACE Market-listed companies TT Vision Holdings Bhd and Oppstar Bhd, which rose 205.88% or 70 sen to RM1.04, and 166.67% or RM1.05 to RM1.68, respectively. As for LEAP Market-listed Sancy Bhd, the digital healthcare solutions provider also climbed 166.67% or 20 sen to 32 sen.
Only two newly-listed companies have fallen below their IPO price. Main Market-listed Kumpulan Kitacon Bhd fell 15.44% or 10.5 sen to 57.5 sen, while LEAP Market-listed DS Sigma Holdings Bhd dropped 31.82% or 17.5 sen to 37.5 sen.    
The content is a snapshot from Publisher. Refer to the original content for accurate info. Contact us for any changes.
Related Stocks
Comments