Seven shortlisted to purchase UEM Group's CIMA
This article first appeared in The Edge Malaysia Weekly on November 13, 2023 - November 19, 2023
UEM Group Bhd, a wholly-owned unit of sovereign wealth fund Khazanah Nasional Bhd, is understood to have shortlisted seven candidates that are looking to acquire its wholly-owned Cement Industries of Malaysia Bhd (CIMA), sources familiar with the matter tell The Edge.
UEM Group is understood to be looking to hive off its entire stake in CIMA.
While the bidders are not known at this stage, it is understood that at least three foreign outfits — one each from Germany, the Philippines and China — have formed consortiums with local bumiputera parties, and at least four local entities are also among those shortlisted.
Another source familiar with the sale says none of CIMA's competitors locally are among the bidders, which means anti-competition issues will not be triggered.
In an email response to The Edge, UEM Group says, "With regards to your upcoming article on CIMA, unfortunately and respectfully, we decline to comment." 
It is understood that CIMB Investment Bank Bhd and JPMorgan have been roped in to help UEM Group in the sale of CIMA. CIMB Investment Bank is wholly owned by CIMB Group Holdings Bhd, a 23% unit of Khazanah Nasional. In August this year, The Edge had reported that UEM Group was looking at a price tag of RM1 billion for CIMA.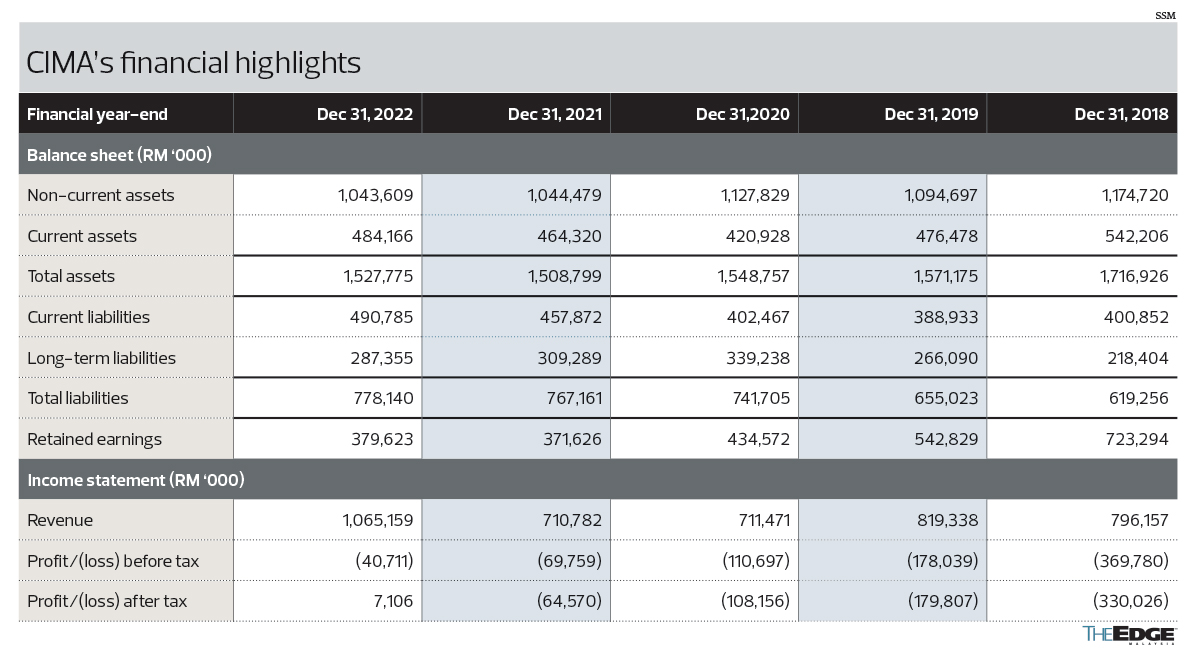 For its financial year ended December 2022 (FY2022), CIMA mustered an after-tax profit of RM7.11 million on the back of RM1.06 billion in revenue. Checks on SSM show that CIMA turned the corner in FY2022 after at least four years of losses.
It is worth noting, however, that CIMA suffered a pre-tax loss of RM40.71 million in FY2022 so the profit registered could be derived from either some taxation gains or other non-operational earnings. In FY2021, CIMA suffered an after-tax loss of RM64.57 million from RM710.78 million in sales.  
As at end-2022, CIMA had total assets of RM1.53 billion against RM778.14 million in total liabilities while its retained earnings stood at RM379.82 million.
CIMA's main asset is Negeri Sembilan Cement Industries Sdn Bhd, which chalked up an after-tax profit of RM20.23 million from RM1.04 billion in revenue for the financial year ended December 2022. The company suffered a pre-tax loss of RM27.71 million in FY2022.
Other major players in the cement industry include YTL Cement Bhd — which, other than its own operations, also controls 78.58% of Malayan Cement Bhd (formerly LaFarge Malaysia Bhd) — Hume Cement Industries Bhd and Tasek Corp Bhd, both controlled by billionaire businessman Tan Sri Quek Leng Chan of Hong Leong group fame, who is among the richest individuals in the country. YTL Cement is controlled by the family of the late tycoon Tan Sri Yeoh Tiong Lay via their flagship vehicle YTL Corp Bhd, which at its close of RM1.53 per share last Thursday had a market capitalisation of RM16.86 billion.Meanwhile, in Sabah and Sarawak, the key cement players are Cahya Mata Sarawak Bhd and Cement Industries (Sabah) Sdn Bhd.
The sale of CIMA by UEM Group is understood to have come about as one party had shown interest in buying over the cement manufacturer. As a result of this interest, UEM Group, which was reluctant to sell, came up with a tender for the asset. It is looking to fetch the best price possible if indeed it decides to exit the business.
CIMA commenced operations in 1975 as a cement producer and was initially grinding imported clinker. It went public two years later in 1977. It initiated production of its own clinker from a new integrated mill, making it a manufacturer and distributor of cement and cement bags, among others. In 1989, UEM Group, then known as United Engineers (Malaysia) Bhd, replaced the Perlis State Economic Development Corp as the majority shareholder.
In the mid-1990s, CIMA acquired a 67% stake in Pemasaran Simen Negara Sdn Bhd from Kedah Cement and Perak-Hanjoong Simen Sdn Bhd (held by YTL Cement), and later held 35% equity interest in a joint venture with Negeri Sembilan Development Corp (35%) and Halla Cement Manufacturing (30%) to build a 1.2 million tonne-a-year integrated cement plant in Bahau, Negeri Sembilan, which was commissioned in 1998.
In 2000, CIMA acquired 30% of Negeri Sembilan Cement Industries from Halla Cement for RM65 million and, a year later, in April, acquired the remaining 35% stake from Negeri Sembilan Development Corp for RM78 million.
UEM Group came to control CIMA after a corporate exercise in September 2008, when it acquired 50.38% equity interest in CIMA for RM6.26 a share, or RM445.68 million, from UEM World Bhd and triggered a mandatory general offer. All in, UEM Group forked out about RM880 million to privatise CIMA, and its shares were delisted from Bursa Malaysia in mid-November 2008.
UEM Group controlled about 63% of UEM World, previously Renong Bhd.
UEM World was delisted in 2009, following a restructuring that saw it sell its shares in four public-listed companies, including CIMA, to its shareholders. 
Save by subscribing to us for your print and/or digital copy.
The content is a snapshot from Publisher. Refer to the original content for accurate info. Contact us for any changes.
Related Stocks
Comments