Amverton, Chin Group Property, Dayang Enterprise, Kerjaya Prospek, MyEG, Sapura Energy and T7 Global
TheEdge
Tue, Jan 14, 2020 12:19am - 8 months ago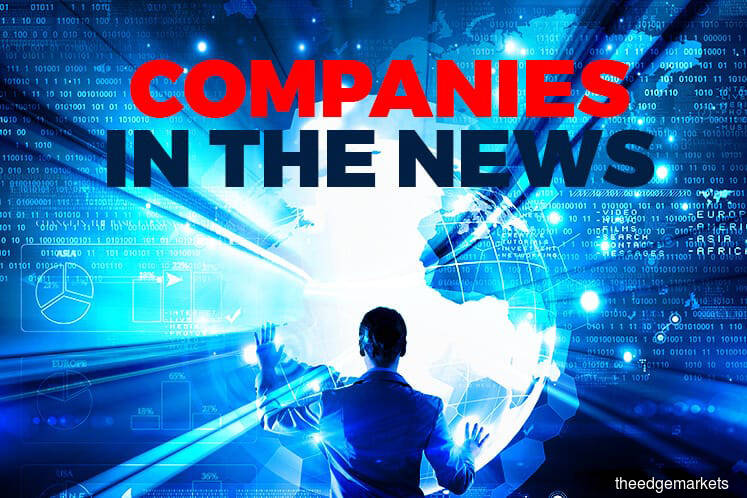 KUALA LUMPUR (Jan 13): Based on news flow and corporate announcements, stocks in focus on Tuesday (Jan 14) may be include: Amverton Bhd, Chin Hin Group Property Bhd, Dayang Enterprise Holdings Bhd, Kerjaya Prospek Group Bhd, My EG Services Bhd (MyEG), Sapura Energy Bhd and T7 Global Bhd.
Amverton Bhd's founder, cum chairman and controlling shareholder Tan Sri Ng Boon intends to privatise the company. Ng's holding company Dalta Industries Sdn Bhd is offering to acquire the remaining 80.83 million shares or a 22.14% stake in the company at RM2.10 per share or  a total of RM97 million.
Ng currently holds 77.86% of Amverton's voting shares. Meanwhile, due the proposed privatisation, Amverton's earlier announced private placement will not continue.
Chin Hin Group Property Bhd (CHGP)'s non-independent and non-executive chairman Datuk Seri Chiau Beng Teik and his family have launched a mandatory general offer (MGO) of the rest of the shares and warrants they do not own. The Chiau family purchased CHGP shares today in the open market and via direct business transactions today bringing their stake to 37.59% from 31.39% previously.
The MGO includes a 30 sen offer price per CHGP share and 10 sen offer price per CHGP warrant. The Chiau family intends to main CHGP's listing on Bursa Malaysia.
Dayang Enterprise Holdings Bhd bagged two contracts for the provision of integrated hook-u[ and commissioning from Petronas Carigali Sdn Bhd. The contracts are to last for four years, effective Jan 1, 2020 to Dec 31, 2023.
Kerjaya Prospek Group Bhd bagged an RM617 million contract to construct flats for Aspen Vision City Sdn Bhd in Penang, representing almost half the RM1.3 billion new job wins in 2019. The contract involved two phases, VIVO and VIIO located in the 245 acre mixed development project Aspen Vision City.
My EG Services Bhd (MyEG)'s Indonesian associate PT Catenz Inti Utama has secured additional mandates from the Indonesian government to roll out its tax monitoring system to 30 more cities, expanding beyond the system's current implementation in Jakarta. However, it did not provide a value for the additional mandates awarded.
These 30 additional cities are located seven other Indonesian provinces. Pilot installations have since commenced across these seven provinces.
Sapura Energy Bhd's unit with Austrian OMV Aktiengesellschaft, SapuraOMV Upstream Sdn Bhd's Larak gas field under the SK408 production sharing contract (PSC) has posted its first production. The fields are tied back into an existing processing facility and gas is transported through existing pipelines for onward gas processing at the Petronas LNG complex in Bintulu.
T7 Global Bhd inked a contract from Repsol Oil & Gas Malaysia Bhd to provide maintenance, construction and modification services for Block PM3-CAA between Malaysia and Vietnam and Block PM-305 located offshore Terengganu. The five-year contract's value will be determined as per work order request made by Repsol. 
Related Stocks
Comments