Focus Point's FY20 bottom line projected to increase by 23.1%
TheEdge
Wed, Jan 15, 2020 10:34am - 1 month ago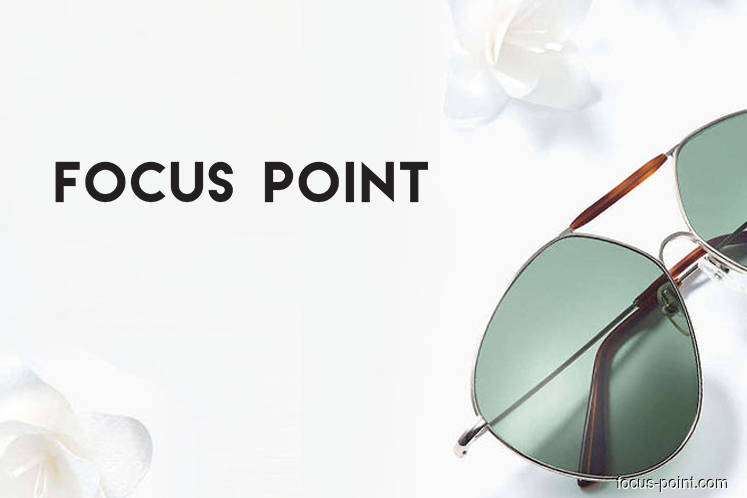 Focus Point Holdings Bhd
(Jan 14, 52 sen)\
Initiate with buy call and a target price (TP) of 70 sen: Focus Point Holdings Bhd operates optometry retailers, consumer facing bakeries under the name "Komugi" and a central kitchen bakery supplying products to external clients including convenience stores and cafes. In addition to this, it also operates a franchise division which franchises out its optical retailer trading names and food and beverage (F&B) franchise.
 
Focus Point was listed on the ACE Market in August 2010. Growth in F&B corporate sales to boost profitability: An anticipated sales growth in the newly secured agreement with corporate clients, growth in the number of corporate clients' outlet numbers (as well as increasing their order size from four stockkeeping units to six beginning in February 2020 are expected to drastically increase its profitability.
From earnings before interest and taxes (Ebit) of RM1.8 million for the financial year ended Dec 31, 2018 (FY18), we expect the F&B division to contribute Ebit of RM3.5 million for FY20 based on the increased corporate sales in the F&B division. Note that the F&B division managed to turn profitable for the third quarter of FY19 (3QFY19).
Opening of new optical stores and 3.5% same-store sales growth (SSSG) going forward: Currently, Focus Point operates 182 (109 in-house) optical retail outlets. They intend to open a further six outlets for FY20 (three under the trading name Focus Point and three under the trading name Whoosh). This is expected to incur a capital expenditure of RM3 million.
Over the previous three years, the optical business recorded an average SSSG of 5.1%. The robust SSSG was mainly due to growth in sales of contact lenses. Going forward, we project a conservative SSSG figure of 3.5% driven by the continued growth of sales of contact lenses.
Focus Point has outlined a dividend policy of a minimum of 30% payout of profit after tax (PAT). However, based on the 1.875 sen already paid out for FY19 (representing about 51.5% of our forecast (F) FY19 PAT), we expect the company to pay two sen per share going forward (45%/40% of FY20F/FY21F PAT respectively). This represents a healthy dividend yield of 3.9%.
Focus Point's nine-month period for FY19 (9MFY19) core PAT of RM5.2 million grew 95.7% year-on-year. This was mainly due to better sales from the optical division as well as the F&B division turning profitable. The turnaround in the F&B division's profitability was due to the higher sales to corporate clients that began for 4QFY18.
Losses in the F&B division narrowed for the first half of FY19 (1HFY19) before turning profitable for 3QFY19. We expect Focus Point to report core PAT of RM8 million for FY19 based on robust 9MFY19 earnings as well as rebates expected for 4QFY19 from major suppliers  linking to Focus Point hitting certain sales targets during the year.
Note that 4QFY19 PAT accounted for 62.7% of the group's full-year earnings. Going into FY20, we project its bottom line to increase by 23.1% due to the significantly stronger performance in the F&B division from the increased corporate sales mentioned above. — Hong Leong Investment Bank Research, Jan 14
Related Stocks
Comments