Cover Story: Area to see rapid growth
Damansara West is a name that has popped up on our radar screens in recent years, but where is it exactly? Property consultants we spoke to say the exact boundaries have yet to be formally established but it is situated towards the north of Shah Alam and surrounded by mature and up-and-coming townships, including Subang, Kota Damansara, Ara Damansara, Sungai Buloh, Denai Alam and Elmina.
Broadly speaking, the area is bounded by Persiaran Atmosfera to the north, Jalan Sungai Buloh to the east, Damansara River to the south and the Guthrie Corridor Expressway (GCE) to the West.
PPC International Sdn Bhd managing director Datuk Siders Sittampalam says Damansara proper was originally an established and planned upmarket residential enclave comprising Damansara Heights and Medan Damansara, and, subsequently, Damansara Kim, Damansara Utama and Damansara Jaya.
"Developments that capitalise on the name are generally located within the sub-district of Damansara, such as Kota Damansara, Ara Damansara, Mutiara Damansara, Sunway Damansara, Damansara Damai and Damansara Perdana," he explains.
With Damansara West, that no longer seems to be the case. Areas considered to fall within its boundaries include Taman Subang Baru, Kampung Melayu Subang, Taman Desa Subang, Taman Nusa Subang, Bandar Pinggiran Subang, Subang 2, Taman Subang Murni, Taman Pinggiran Subang, Taman Desa Damai, Subang Impian and Taman Subang Kristal in Shah Alam.
Damansara West is believed to have been first used by developers marketing their developments in the area. "We believe the name was first introduced by Titijaya Land Bhd when it acquired NPO Builders Sdn Bhd in 2016, giving it access to two tracts of freehold land in Shah Alam U6," says PA International Property Consultants Sdn Bhd managing director Jerome Hong.
"We believe it is now a marketing term for locations in Shah Alam U5 and U6."
He says the area has undergone urban renewal in the past decade with the expansion of Sultan Aziz Shah Airport, more popularly known as Subang Airport.
Damansara West currently comprises a mix of landed houses, low-rise apartments and industrial components, with small pockets of kampung houses.
"However, we have noticed a number of stratified developments launched in the locality over the past two years," notes Hong. Some that have recently sprung up include Seiring @ Damaisuria by Titijaya Land Bhd, Embayu by PRG Holdings Bhd, 
DK Impian by DK Properties Sdn Bhd and Nadayu 801 by Nadayu Properties Bhd.
More developments have been earmarked for the area, including the 64-acre Kwasa Damansara City Centre by Malaysian Resources Corp Bhd (MRCB), TTDI Ayana by Naza TTDI Sdn Bhd, as well as high-rise residential units and villas by TSR Capital Bhd and Gadang Land Sdn Bhd. They are all within the 2,330-acre Kwasa Damansara master plan development by Kwasa Land Sdn Bhd, a wholly owned subsidiary of the Employees Provident Fund. Kwasa Damansara's master plan features residential, commercial and mixed-use components.
Hong anticipates Damansara West will benefit once Kwasa Damansara is kicked off. Another project planned for the area is SoHo development 
M Cahaya by Mah Sing Group Bhd, he adds.
For Hong, the mid to long-term outlook for the area looks positive. "Damansara West is an excellent alternative for urbanites and investors looking for urban living in view of its proximity to, and relatively cheaper land prices than established locations in Shah Alam proper, Subang and Kota Damansara.
The area also enjoys a large catchment from surrounding areas in Shah Alam, Kota Damansara, Subang and Sungai Buloh, which would appeal to young executives and working population looking to stay, or invest in affordable stratified units as a hedge against inflation.
"Furthermore, with Kwasa Damansara and MRT stations, Damansara West is likely to gain from the spillover in terms of property development as well as capital appreciation in time to come. Hence, this area is an up-and-coming hot spot for home occupiers and investors alike," adds Hong.
A well-served location
Damansara West enjoys easy access to various highways and arterial thoroughfares such as the GCE, Jalan Sungai Buloh, Jalan Lapangan Terbang Subang, the New Klang Valley Expressway (NKVE) and the North-South Expressway Central Link (ELITE). The upcoming Damansara-Shah Alam Elevated Expressway (DASH), scheduled to be completed in mid-2020, also bodes well for the area.
"The three-lane elevated dual carriage expressway, with exits at Kampung Melayu Subang, Pinggiran Subang and Subang 2, will greatly enhance ingress and egress to and from Damansara West. DASH is the main connector between CGE, NKVE, Damansara-Puchong Expressway (LDP) and Penchala Link," says Hong.
Damansara West is also served by the new Kwasa Sentral and Kwasa Damansara MRT Stations as well as the Sungai Buloh KTM, and is near Subang Airport.
Metro REC Sdn Bhd head of agency Terence Yap is of the opinion that Damansara West has become attractive due to the spillover development from Kota Damansara. "Generally, prospects look good for landed residential options here as the prices are still attractive," he says.
"The younger working population will be looking at high-rise residential options, with convenience and accessibility being the key selling points. Amenities such as schools, tertiary education, medical centres, retail shops and services are also aplenty in the area."
Some of the amenities in and around Damansara West include HELP University and HELP International School, Star Avenue Lifestyle Mall, SEGi University and College, Thompson Medical Centre, Giant Hypermarket, RRIM Research and the Kota Damansara Community Forest Reserve. The area is also a short drive from popular shopping malls in Mutiara Damansara, Kota Damansara and Bandar Utama.
Potential value appreciation
PPC's Siders believes that Damansara West has potential for capital appreciation. "Moreover, the area comprises mainly landed residential property, which would further contribute to value appreciation, with land becoming scarce.
"Going forward, the area may no longer be feasible for building landed property and the trend would be developing high-rises."
He says property values in the area are seeing gradual growth with an increasing number of people working in Damansara West. (See Graphs 1 and 2).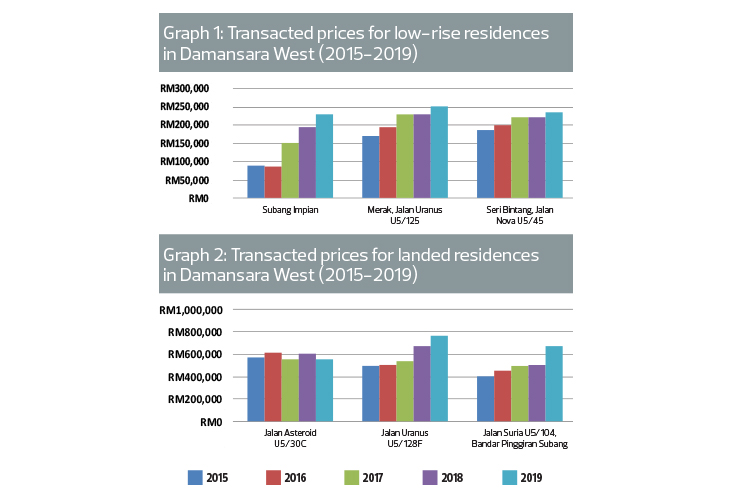 "HELP University in the area, as well as SEGi University in Kota Damansara, have benefited the properties in Damansara West in terms of yields and value. However, the appreciation would depend on a property's distance and access to public transport."
Transacted prices of 2-storey terraced houses in Subang Murni, Subang Galaksi and Subang Bestari rose from late 2013 and peaked in 2015, according to JPPH data, says PA's Hong. "The increase in prices could be attributed to the announcement of Kwasa Damansara, which prompted much interest in the locality. Prices consolidated in 2017 due to the softer property market." Terraced houses priced below RM480,000 prior to 2014 now average RM650,000 today.
For the non-landed segment, prices in Seri Bintang and Sri Galaksi apartments saw their values rise strongly from 2013 to 2016, and began consolidating in 2017. Apartments with built-ups of 750 to 850 sq ft are now being transacted at RM300 to RM350 psf, notes Hong.
"Those close to HELP University have shown the most appreciation at about 17.5% appreciation per annum over six years compared with other apartments, which rose about 8.3% per annum in the same period," he says.
Property prices in Damansara West are still generally lower than in Kota Damansara, Ara Damansara and Subang Jaya, says Siders. "For example, serviced apartments in Kota Damansara are on the market for about RM750 psf compared with about RM530 psf for those in Damansara West." (See Table 1.)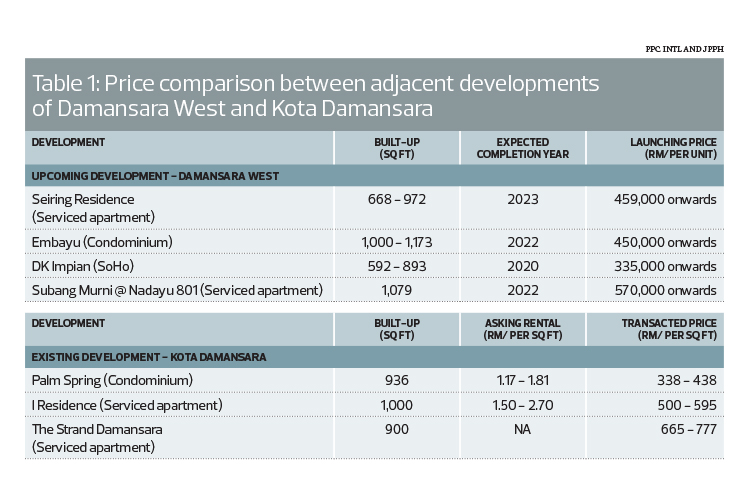 Based on development trends and prices, Siders says the demographics in Damansara West are from the lower middle income to middle income groups.
Metro REC's Yap says 2-storey terraced houses in the area are popular among middle-income families. "Well-performing landed developments in the area include 2-storey terraced houses in Bandar Pinggiran Subang, Mutiara Subang and Subang Bestari as the prices are lower than those in established townships like Kota Damansara and Ara Damansara."
Prices range from RM290 to RM390 psf. For example, 2-storey terraced houses with a built-up of 1,956 sq ft in Mutiara Subang are asking for RM550,000 to RM570,000, and those at Subang Bestari with a built-up of 1,800 sq ft, RM550,000 to RM690,000. Units with a built-up of 1,400 sq ft in Bandar Pinggiran Subang are asking for RM530,000 to RM570,000, says Yap.
He says transacted prices of 2-storey terraced houses in Bandar Pinggiran Subang and Mutiara Subang have not changed much since 2015 and the transaction volume is also not high. Most of the units are owner occupied. In terms of rents, the areas mentioned by Yap are asking about RM1,300 to RM1,500 per month, giving a yield of 2% to 2.5% per annum.
The high-rise segment — flats, apartments and more recently, condominiums and serviced apartments — command lower prices than in the neighbouring townships. "The lower prices as well as the presence of international schools and universities in the area has attracted owner-occupiers as well as investors," Yap says.
For example, apartments in Mutiara Subang with built-ups of 850 sq ft were transacted at an average of RM320 psf in the last two years, while apartments at Seri Galaksi went slightly higher at RM345 psf. Pangsapuri Orkid units with built-ups of 834 sq ft are priced from RM240,000 to RM250,000 or about RM290 psf, says Yap.
Apartment prices have appreciated slightly. Average transacted prices at Mutiara Subang increased to RM320 psf from RM318 psf in 2015, Yap says. "Although the past two years have seen lower transaction volume, demand is still there for this type of property due to the new MRT1 Line," he says.
In terms of rents, low-cost flats at Pangsapuri Orkid are charging RM850, and Mutiara Subang, RM900 to RM1,000 per month, and enjoy yields of at least 4% per annum.
"Interest and demand for properties in this location are gradually increasing, but slower than in neighbouring townships such as Kota Damansara," says Yap.
Siders says public transport in the housing areas could be improved by providing feeder buses to MRT stations and regular bus services on the main roads, while security in the area can be beefed up by both the authorities and residents.
Prospects are looking promising for Damansara West, with Kwasa Damansara set to be a catalyst for the area, Yap says. "Planned and guided by the Draft Kwasa Damansara and Petaling Jaya Special Area Plan, developments within Kwasa Damansara are planned to create a conducive and sustainable living environment.
Moreover, we expect to see Kwasa Damansara set the trend with more innovative, lifestyle and sustainable products for this locality, which will spur demand from upgraders and first-time homebuyers from nearby areas."
"Coupled with improved infrastructure, we believe Damansara West will see rapid development over the next 10 to 20 years," he says.
The content is a snapshot from Publisher. Refer to the original content for accurate info. Contact us for any changes.
Related Stocks
Comments