2021 Newsmakers: Corporate manoeuvres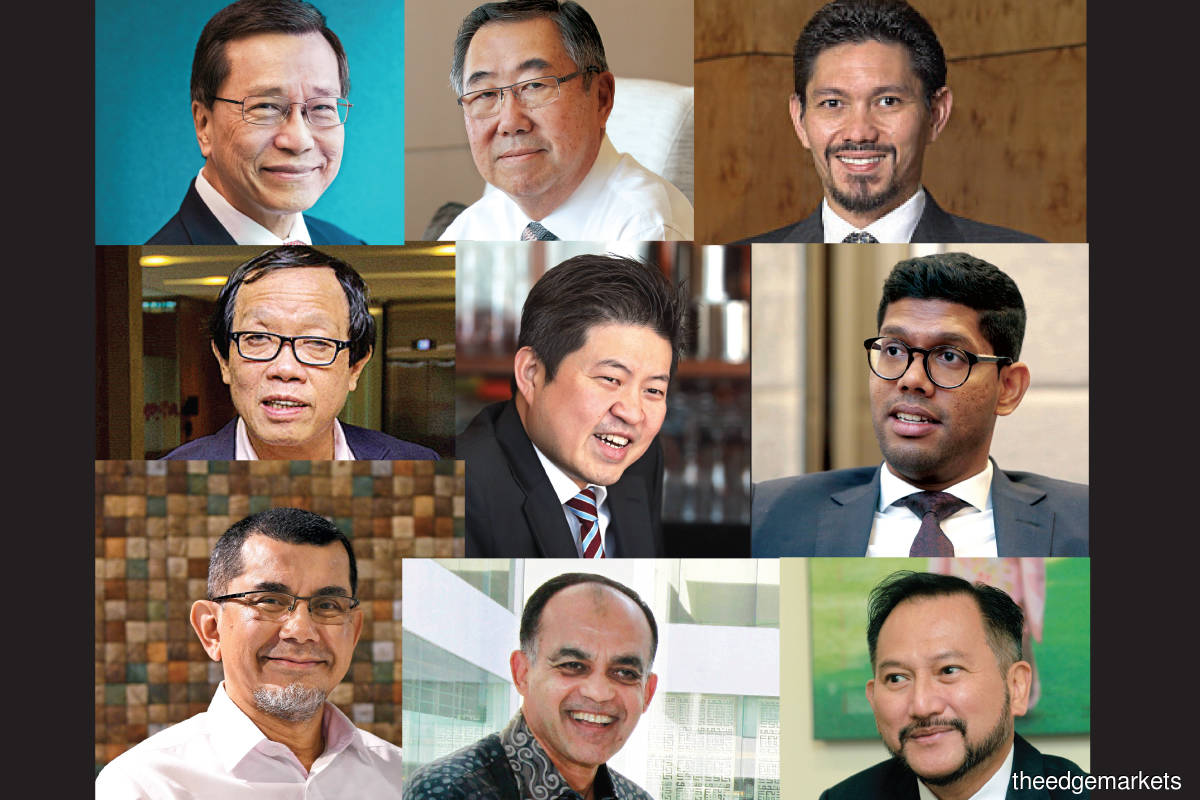 In a business landscape disrupted by the Covid-19 pandemic and its spillover effects, opportunities can still be found. Those who were prepared wasted no time in seizing them. Meanwhile, some were enriched on emerging trends but, for a few others, it was a time to reset and realign.
Tan Sri Lee Oi Hian
CEO, Kuala Lumpur Kepong Bhd
Non-independent, non-executive chairman, Batu Kawan Bhd
If anyone deserves the title of "dealmaker of the year" in Corporate Malaysia, it would be low-profile plantation tycoon Tan Sri Lee Oi Hian, CEO of Kuala Lumpur Kepong Bhd (KLK) and non-independent, non-executive chairman of Batu Kawan Bhd (BKB).
Lee and his family indirectly own 54.65% of BKB, which has a 47.16% stake in KLK.
In March, BKB completed the acquisition of 100% of Chemical Co of Malaysia Bhd (CCM). On the heels of that, KLK made an offer to take over IJM Corp Bhd's 56.2% stake in IJM Plantations Bhd in June, triggering a mandatory general offer (MGO) for the rest of the shares it did not own.
BKB had acquired 56.32% of CCM from Permodalan Nasional Bhd and undertook an MGO for the remaining shares it did not own in the chemical and polymer manufacturer. The RM519.86 million deal enhanced BKB's market position as a chlor-alkali chemical manufacturer.
Meanwhile, the RM3.10 per share offer for IJM Plantations was said to be up to 50% higher than the most recent bid by a competitor and showed KLK's intent to take over the last few remaining large tracts of prime oil palm estates in Sabah along with some hectarage in Kalimantan, Indonesia.
The offer price is also a 31% premium over the ex-interim dividend share price of IJM Plantations on June 8, a day before the offer was announced. The generous offer was also made just before the crude palm oil price reached a historical high of above RM5,000 per tonne.
The deal valued IJM Plantations at RM2.72 billion.
IJM Plantations has some 25,000ha of planted area in Sabah and 36,263ha across the border in East Kalimantan, for a total planted area of 61,277ha.
With the acquisition, KLK's planted area in Sabah is bumped up to 63,000ha while its total oil palm planted area increased by 28.7%, from 213,411ha to 274,688ha.
With its strong balance sheet and some room to gear up, will KLK, helmed by Lee, still have the appetite for more mergers and acquisitions in 2022? — By Jenny Ng
Tan Sri Lim Kok Thay
Chairman and CEO, Genting Bhd
The Genting group completed its major capital expenditure programme this year despite its operations being hampered by the pandemic.
Headed by chairman and CEO Tan Sri Lim Kok Thay, the group opened the doors of its US$4.3 billion (RM18.09 billion) Resorts World Las Vegas, completed a 400-room hotel at Resorts World New York and is putting the finishing touches to a new-look theme park in Malaysia. Genting SkyWorlds, an amusement park in Genting Highlands styled after 20th Century Studios, will open this month.
The heavy capital expenditure resulted in Genting's debt increasing to RM40.1 billion as at September this year from RM35.8 billion last year. The rise in borrowings came amid a weak operating environment owing to lockdowns, which caused Genting's cash flow to drop significantly.
Although the cost incurred for expansion put pressure on Genting's balance sheet, it is not of concern as the market is looking at the group's listing of its the US operations.
A New York listing would be a positive for the Genting group as it would reduce its debts. Apart from Resorts World Las Vegas abd New York, the Genting group's other US asset is in the Bahamas. Both the Bahamas and New York gaming assets are held under Genting Malaysia Bhd.
While the casinos are seeing more visitors, the Lim family's cruise ship operations, held under Genting Hong Kong, are yet to see any signs of a recovery.
Genting Hong Kong, in which the Lim family holds 70.91% directly, received a cash injection of US$700 million and pushed its debt repayment obligations to 2023 and 2026 in a restructuring announced in June this year.
Whether the reprieve is sufficient is left to be seen. — By M Shanmugam
Datuk Seri Thong Kok Khee
Major shareholder of Insas Bhd
Non-executive director, Inari Amertron Bhd
Media-shy businessman Datuk Seri Thong Kok Khee may keep a low profile, but his flagship company Insas Bhd and its 14.5%-owned outsourced semiconductor assembly and test (OSAT) firm Inari Amertron Bhd have certainly attracted investor attention this year.
Insas, in which the 67-year-old Thong is the single largest shareholder with a 25.05% stake, had in October announced a plan to list its stockbroking arm M & A Securities Sdn Bhd (M&A) via a reverse takeover of furniture maker SYF Resources Bhd.
The securities firm is valued at RM222 million, representing a price-to-book valuation of 1.2 times — which is generally higher than most banks listed on Bursa Malaysia — and has a price-to-earnings ratio of 11.8 times.
Under the proposal, Insas will inject 100% of M&A into SYF, in exchange for 1.58 billion new SYF shares at an issue price of 14 sen per share.
Thong is also a non-independent, non-executive director in Inari and Ho Hup Construction Co Bhd, as well as deputy chairman of technology solutions provider Omesti Bhd.
In July, cash-rich Inari successfully raised RM1.03 billion from a private placement exercise, in which the shares were issued at RM3.10 apiece.
About three months later, Inari announced that the group had signed a memorandum of understanding (MoU) with Shanghai-based China Fortune-Tech Capital Co Ltd (CFTC) to carry out OSAT-related businesses in China.
CFTC is backed by Semiconductor Manufacturing International Corp (SMIC), the largest and most advanced pure-play semiconductor foundry in China.
In a joint statement on Dec 6, FTSE Russell and Bursa Malaysia revealed that Inari would be included as one of the FBM KLCI constituents. The list of constituents is reviewed annually, with the latest changes taking effect on Dec 20. — By Liew Jia Teng
Datuk Seri Sulaiman Abdul Rahman Abdul Taib
Managing director of Cahya Mata Sarawak Bhd
In June, Datuk Seri Sulaiman Abdul Rahman Abdul Taib was appointed to the board of Cahya Mata Sarawak Bhd (CMS) as a non-independent non-executive director. After a few weeks, he took over from Datuk Isaac Lugun as the managing director of the diversified company.
Sulaiman, who was on the board of CMS from 1995 to 2008, after which he had a short stint in politics, becoming deputy minister of tourism, was also executive chairman of RHB Capital Bhd, which controlled RHB Bank, but has been low-key for the past decade or so.
He is also the third son of the Sarawak governor — the powerful Tun Abdul Taib Mahmud, who was chief minister of the state for 33 years until 2014 — and his return to CMS as managing director could spell widespread changes at the company and strengthen its position as a key player involved in various developments in the state. While Sulaiman does not have a significant stake in CMS yet (he had 0.64% in April), his family has more than 36% equity interest in the company.
With a market capitalisation of RM1.43 billion, CMS is one of the largest companies in Sarawak. It is involved in key aspects of the state's economy, with interests in construction, property development, cement and road maintenance. It also has stakes in KKB Engineering Bhd and Kenanga Investment Bank Bhd (18.93%), among others. Apart from the family, state-controlled Sarawak Economic Development Corp also has a stake in CMS, of 5.72%.
What are Sulaiman's plans for CMS and what will he do with the company now that he is at the helm? Will his ties to the ruling Barisan Nasional give CMS additional clout to bag jobs in the state and perhaps venture beyond its stronghold of Sarawak? — By Jose Barrock
Aaron Chen Khai Voon
Co-founder, major shareholder of Genetec Technology Bhd
Low-profile businessman Aaron Chen Khai Voon has been quiet on the local corporate scene in the past seven years, since he ceased to be a substantial shareholder of Penang-based property developer Tambun Indah Land Bhd in 2014.
However, Chen, the founder of industrial supplies company KVC Industrial Supplies Sdn Bhd, has been in the news since the middle of this year, when the PappaRich restaurant chain in Malaysia was ordered by the High Court of Malaya on May 5 to wind up.
PappaRich Group Sdn Bhd (PGSB) is 49.99%-owned by Chen, while the remainder is held by Adventure Driven Sdn Bhd, in which Chen is also a shareholder with Lim Beng Guan, the co-founder of ZJ Advisory Sdn Bhd.
But it was the eye-popping rally of ACE Market-listed industrial automation house Genetec Technology Bhd, in which Chen is a co-founder and major shareholder with an equity interest of 19.37%, that put him in the limelight this year.
Year to date, shares in Genetec have skyrocketed more than 20 times to close at RM39 on Dec 8, giving it a market capitalisation of RM2.03 billion.
The Genetec euphoria was mainly fuelled by the expectation that the company would obtain contracts from its electric vehicle customers, which could include Tesla Inc.
Notably, the counter shot up to an all-time high of RM49.68 on Nov 3, a few weeks after CGS-CIMB Research initiated coverage on the company, with an "add" call and a target price of RM50.
On Oct 25, Genetec proposed a bonus issue of up to 661.56 million new shares on the basis of 12 bonus shares for every one share held.
More recently, Chen had surfaced as a substantial shareholder of WZ Satu Bhd with a 5.08% stake on Nov 19. He now owns a 14.12% stake in the civil engineering and construction firm, after mopping up shares on the open market and subscribing to private placement shares.
It was reported that Chen might play an active role in WZ Satu, hence it will be interesting to see what value he could bring to the company next year. — By Liew Jia Teng
Datuk Eddie Ong Choo Meng
Executive director, Hextar Global Bhd
Businessman Datuk Eddie Ong Choo Meng, who has been on a "shopping" spree for the past few years, continued to expand his empire in 2021. Ong, who is involved in the manufacture of gloves, agrochemicals, furniture, plastics and industrial products, this year ventured into fibre optics, logistics, property and retail.
He is the controlling shareholder of agrochemical company Hextar Global Bhd and also has an interest in Hextar Industries Bhd (formerly SCH Group Bhd), Rubberex Corp (M) Bhd, Pekat Group and SWS Capital Bhd.
In February, Ong added fibre-optic manufacturer Opcom Holdings Bhd to his list of businesses. His purchase of shares held by Datuk Seri Mukhriz Mahathir will enable him to expand into 5G. Opcom is the sole fibre-optic cable manufacturer in the country.
The following month, Ong emerged as the largest shareholder of Complete Logistic Services Bhd (CLSB) after acquiring a 29.2% stake, or 37.5 million shares, in an off-market transaction. Earlier this month, Ong and his special purpose vehicle Hextar Tech Sdn Bhd made a conditional voluntary takeover offer to acquire the remaining shares of CLSB not already owned by them.
In September, the 43-year-old Ong surfaced as a substantial unitholder of retail asset-focused KIP Real Estate Investment Trust. The move provides him with a ready platform to inject property assets held by his private companies and listed entities.
Another retail venture of Ong's relates to Empire City Mall in Petaling Jaya. In October, his glove company Rubberex bought a 20% stake in the yet-to-be-completed mall for RM180 million. The mall forms part of the RM5 billion Empire City Damansara project by Mammoth Empire Holdings Sdn Bhd. Ong believes that when the economy recovers, property and retail will gain traction. — By Vasantha Ganesan
Abdul Jalil Abdul Rasheed
CEO, Berjaya Corp Bhd
In the corporate world, it may take gumption for a family-run business to pass the baton to an outsider. Berjaya Corp Bhd (BCorp) is one company that took such a bold step to restructure its business.
Last April, founder Tan Sri Vincent Tan Chee Yioun took a non-executive role, having been redesignated as non-executive chairman, from executive chairman. This came after Abdul Jalil Abdul Rasheed, former president and CEO of Permodalan Nasional Bhd, was appointed as BCorp CEO in March.
The conglomerate then unveiled a three-year strategic plan to become an institutionalised high-performing consumer group with focused core business segments. Another goal is a massive cut in its debt by half to RM2.5 billion within the next three years, through asset or business disposals as well as dividend payments from its listed subsidiaries.
Execution will be key for BCorp to address its legacy issues, including the complicated corporate structure, related-party transactions as well as cross-ownerships among listed and non-listed entities. These factors had led to a lack of interest in the trading of BCorp shares.
While there were some disposals of non-core assets, the market had anticipated a more drastic move by the group to streamline its business structure.
Notably, Jalil Rasheed had publicly shared the intention to privatise Berjaya Land Bhd and sell Berjaya Sports Toto Bhd as well as to set up a hospitality real estate investment trust (REIT), though the board was quick to clarify that these plans had not been deliberated.
It will be interesting to see how the restructuring exercise will translate to its financials. — By Lee Weng Khuen
Tan Sri Syed Mokhtar Albukhary
Controlling shareholder of MMC Corp Bhd and DRB-Hicom Bhd
Running a sprawling empire with many choice assets, it is almost impossible for low-key businessman Tan Sri Syed Mokhtar Albukhary to be out of the news.
This year, he privatised his flagship MMC Corp Bhd via a selective capital repayment of RM2 per share, forking out RM2.94 billion in the process for the 48.24% equity interest or 1.47 billion shares not owned by his vehicle Seaport Terminal (Johore) Sdn Bhd.
MMC's share price had been hovering at the RM1.30 level before the privatisation proposal, resulting in overwhelming acceptance of the offer among shareholders. This was despite the company's net assets per share of RM3.20.
While Syed Mokhtar may have privatised MMC, it is likely that he may float the shares of its unit MMC Port Holdings Sdn Bhd — which owns Penang Port Sdn Bhd, Northport (M) Bhd, 70% of Port of Tanjung Pelepas Sdn Bhd, Johor Port Bhd and 70% of the smaller Tanjung Bruas Port in Melaka — next year.
MMC also has a 37.6% stake in Malakoff Corp Bhd, a publicly traded power generation outfit; 30.9% equity interest in Bursa Malaysia-listed natural gas distributor Gas Malaysia Bhd; wholly owns international airport operator Senai Airport Terminal Services Sdn Bhd in Johor Baru; water treatment company Aliran Ihsan Resources Bhd; MMC Engineering Bhd; a 99.1% stake in haulier Kontena Nasional Bhd; and various portions of construction work for the mass rapid transit projects, via a 50:50 joint venture with Gamuda Bhd, to name some of its more prominent assets.
Syed Mokhtar has a 55.92% stake in conglomerate DRB-Hicom Bhd, which in turn has 50.1% equity interest in Proton Holdings Bhd; 100% in Edaran Otomobil Nasional Bhd; 70% in Bank Muamalat Bhd; 53.49% in publicly traded Pos Malaysia Bhd; 70% in Motosikal dan Enjin Nasional Sdn Bhd; 100% in DRB-Hicom Defence Technologies Sdn Bhd; 34% in Honda Malaysia Sdn Bhd; and 100% in Puspakom Sdn Bhd, among other assets.
He also has a large number of assets parked under privately held Tradewinds Corp Bhd, namely Central Sugars Refinery Sdn Bhd, rice distributor Padiberas Nasional Bhd, plantation outfit Tradewinds Plantation Bhd and a number of hotels, among others. — By Jose Barrock
Tunku Datuk Yaacob Khyra
Executive chairman, MAA Group Bhd
In 2021, Tunku Datuk Yaacob Khyra, via his flagship company MAA Group Bhd, bought a 57.78% stake in Turiya Bhd, which has little in terms of business but owns Wisma Chase Perdana in Jalan Semantan in Damansara Heights, and acquired almost 10% equity interest in oil and gas and engineering company KNM Group Bhd.
Yaacob has a 41.81% stake in MAA, which provides insurance services in the Philippines, among other businesses.
At troubled KNM, Yaacob is the largest shareholder and was appointed to the board in early November. On Nov 18, KNM missed a principal and coupon payment on its bonds issued in Thailand worth THB2.78 billion (RM352.57 million). However, Credit Guarantee and Investment Facility, a trust fund managed by the Asian Development Bank, stepped in and repaid KNM's bondholders in Thailand, giving the company some breathing space.
KNM's main income generators include German-based Borsig GmbH and Italian heat exchanger supplier FBM Hudson Italiana SpA.
What will Yaacob do with KNM?
At Turiya, Yaacob and MAA made an offer to buy 57.78% equity interest in the company from Ithmaar Bank BSC for RM23.8 million, or 18 sen per share. However, Empire Holdings Ltd, the vehicle of Tan Sri Mohan Swami which had held a 59.45% stake in Turiya (including the 57.78% acquired by MAA) and charged a chunk of the shares to Ithmaar Bank, sought to block the sale but was not successful as at press time.
According to Turiya's annual report, Wisma Chase Perdana had a net carrying value of RM146.76 million as at April 21 this year. Turiya's market capitalisation was below RM47 million.
How will Yaacob unlock value at Turiya?
Apart from Turiya and KNM, Yaacob has 46.9% equity interest in Melewar Industrial Group Bhd, which in turn has a 74.13% stake in Mycron Steel Bhd, a manufacturer of cold rolled coils and steel sheets, tubes and pipes. With the current stronger steel prices Mycron's business has been faring well and could generate interest among investors. — By Jose Barrock
Tan Sri Syed Zainal Abidin Syed Mohamed Tahir
Managing director of Dagang NeXchange Bhd
Tan Sri Syed Zainal Abidin Syed Mohamed Tahir, as managing director of Dagang NeXchange Bhd (DNeX), managed to pull off not one but two coups this year.
The first was in February, when DNeX partnered with Beijing-based CGP Fund on a 60:40 basis to win a bid to acquire Khazanah Nasional Bhd's loss-making semiconductor unit SilTerra Malaysia Sdn Bhd for RM273 million cash.
When the acquisition was announced, Syed Zainal, who is best known for having helmed both national automaker Proton Holdings Bhd and second national car Perusahaan Otomobil Kedua Sdn Bhd, said the acquisition was part of DNeX's expansion and diversification plan.
While many were sceptical of DNeX's ability to turn SilTerra around, what with the company's trade facilitation business being its mainstay, Syed Zainal pulled off his second coup.
A mere four months later, after signing on the dotted line with Khazanah for the SilTerra acquisition, DNeX roped in Taiwanese giants Hon Hai Precision Industry Co Ltd — or better known by its trading name, Foxconn Technology Group, a multinational electronics contract manufacturer — to take up a stake. Foxconn snapped up 120 million shares, or a 5.03% stake, in DNeX, acquiring the block from existing shareholders.
Foxconn had put a bid in for SilTerra but lost out to DNeX. With annual revenue exceeding US$25 billion in 2020, the Taiwanese giant is the largest electronics manufacturer in the world. It makes iPhones for Apple Inc, among other products.
About two weeks after emerging as a substantial shareholder, however, Foxconn's stake was diluted and fell below the 5% threshold required for corporate disclosures, as a result of DNeX's shareholders converting their warrants. Nevertheless, DNeX's annual report indicates that Foxconn still had 3.88% equity interest in the company as at early October this year.
What are Syed Zainal's plans for DNeX and what will Foxconn's role be in the company? — By Jose Barrock
The content is a snapshot from Publisher. Refer to the original content for accurate info. Contact us for any changes.
Related Stocks
Comments