Cover Story: Bargains and opportunities for investors and homebuyers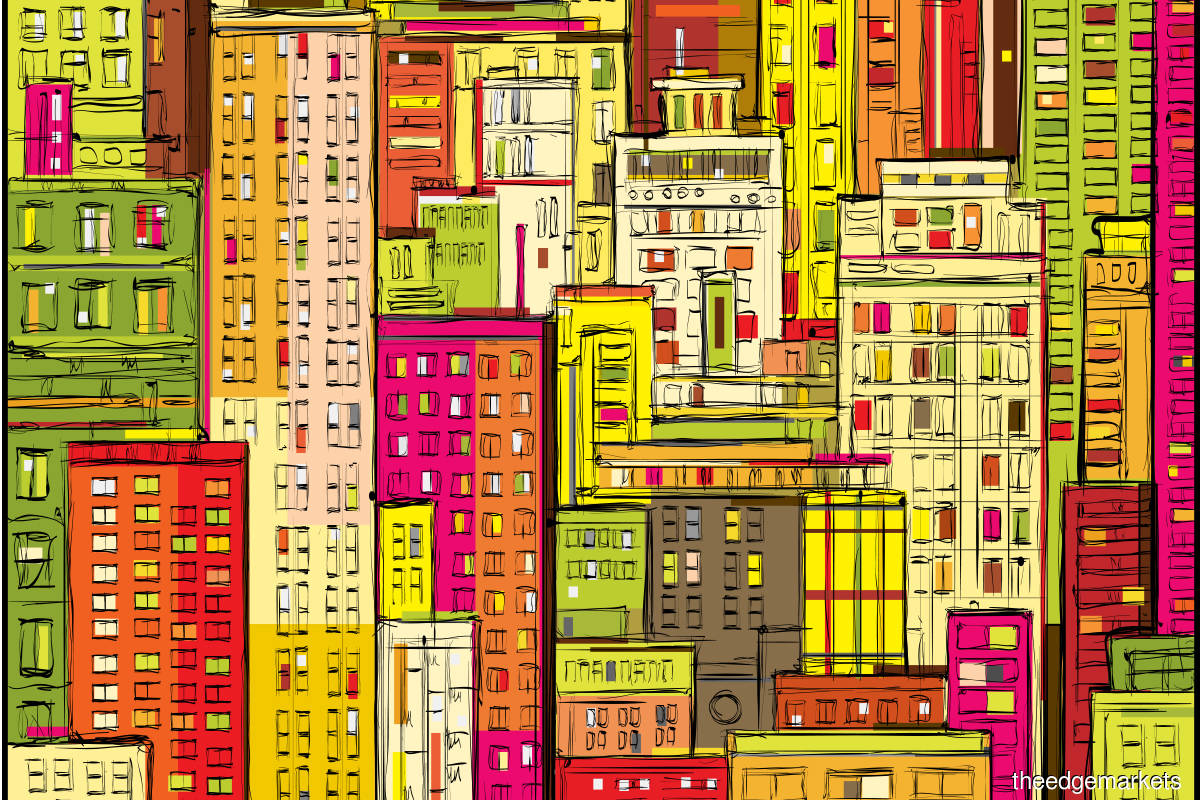 The Covid-19 pandemic has had a tremendous impact on the local property market. There have been opportunities arising from new trends such as work from home (WFH), a growing demand for logistics and industrial properties, and the increasing adoption of property technology or proptech.
Nevertheless, industry observers note that the market is still facing challenges and disruptions. Will prospects be better this year? Will there be opportunities and bright spots for investors and homebuyers to look forward to?
More importantly, will the market bounce back to what it was before the slump? We talked to industry experts about the lessons learnt and key takeaways from 2021, and got their insights and predictions for this year.
CBRE | WTW group 
managing director 
Foo Gee Jen
Malaysia's real estate market is in the midst of a major realignment, with some businesses needing to revamp and adapt to changes to survive. Technology is the way forward for most of them. However, during this time, houses continued to be sold, projects were launched, malls opened for business, and workers commuted to office buildings as the wheels of commerce and industry moved forward, albeit at a slower pace, powered partly by the momentum of past years.
The key takeaway for 2021 was probably the reminder that the growth and rise of the property market is driven by the economy. It is dependent on higher industrial productivity putting money in the hands of homebuyers and consumers; spending and investment by foreign investors, residents, tourists; innovation, entrepreneurship and dynamism. All aspects of society are interdependent: the economy, politics, health, property.
The challenge for property players is to appreciate the fact that buyers/consumers have an equal role in the future direction of the market, unlike their past belief that customers can be influenced by market strategies, pricing and freebies.
In 2022, we foresee that the market will be more sensitive to customer needs and demands, providing more value for money, quality and functionality. Developers, investors and buyers will all be more cautious; transactions will be on a need basis and, to some extent, may surge owing to pent-up demand.
The residential sector could recover first as basic housing is an essential need for a growing population. Affordable housing is expected to lead. This will be followed by basic commercial activities catering to the provision of food, essentials and other basic needs.
Homes, which many regarded as personal or family space, have now also partly become office workspace. Using the internet to access the office server and conduct discussions and meetings has become a necessity at home. Developers should redesign unit layouts, sizes and facilities to meet this changing lifestyle and work culture. Energy-saving features and safety aspects would be the other key drivers for the residential market.
If WFH becomes more widespread, proximity/convenience in commuting to the office will not be at the top of the list in house selection. This may enable more families to move to more affordable locations with more space/land, further from the city centre.
The economy and the property market have been presented with the rare opportunity to reset/reboot, discard unprofitable practices, experiment with innovation and match prices to market needs.
VPC Alliance 
managing director 
James Wong
With the prolonged lockdowns since early 2021 owing to the Covid-19 pandemic, high overhang in most sectors of the property market (totalling 65,309 units), new supply coming onstream and sluggish economy, the domestic property market in 2021 was soft and lacklustre.
Therefore, many developers held back their launches during the year. Banks remained cautious about lending for residential property. As at July, the approval rate was only 36%. 
If not because of these measures, the property market would have declined even further. Other key takeaways include the government's unveiling of seven economic packages totalling RM377 billion; the success of the Home Ownership Campaign (HOC), with 73,503 units sold up to Sept 30, 2021; the bank moratorium on loans, which expired in December, and Bank Negara Malaysia maintaining the overnight policy rate at 1.75%.
Some of the key challenges in the domestic property market in 2021 were the mismatch between supply and demand, resulting in the overbuilding of high-rise serviced apartments and not enough landed residential properties — which are still in demand — being built. Owing to the Covid-19 pandemic, developers were not able to do physical official property launches. Hence, there were fewer launches in 2021.
Political instability also affected the property market last year. Other challenges included the shortage of construction workers and a 25% increase in the cost of building materials compared with 2020. Developers concentrated on developing both affordable and smaller units. There were no significant incentives and measures in Budget 2022 to revive the market. 
As there is a shortage of affordable housing, under the 12th Malaysia Plan (2021-2025), the target is to build 100,000 affordable homes during this period. Many developers are expected to launch such homes this year.
We expect the property market in 2022 to still be soft. The recovery will only happen when political stability returns after the 15th general election, the pandemic is under control and the economy recovers.
The property market in 2022 will continue to be a buyer's and tenant's market. There is a shortage of industrial and logistics properties. Seeing the opportunities there, many established developers will launch the sale of vacant industrial land and built-to-specifications industrial premises for targeted buyers.
As the country's population is ageing, 2022 will witness the launch of upscale seniors' living accommodation with aged-care facilities. We also anticipate more developers incorporating rent-to-own housing schemes in their projects this year.
JLL Malaysia 
country head 
YY Lau
Although economic activities have resumed in 2022, the evolution of work culture brought about by the Covid-19 pandemic continues as more people opt to have better living spaces, which serve as their alternative workspace and a comfortable studying space for their children. Hence, the residential market continues to enjoy fairly good demand, largely because of the incentives provided under the HOC.
The industrial sector saw high demand in the last few years. The logistics ecosystem and supply chain have improved following the high demand in e-commerce, warehousing, as well as sub-sectors such as medical devices, electrical and electronics (E&E) and data centres for cloud services. The growth of the logistics sector can be seen in the numerous investments by major players in recent years such as Axis REIT's acquisition of a logistics warehouse in Johor. E-commerce value increased considerably to RM36.1 billion in 2021 from RM9.6 billion in 2016.
The country's exports of medical devices increased to about RM30 billion as a result of the pandemic and we saw a significant expansion by medical device manufacturers such as Hartalega Holdings. Technology sectors also saw investments and expansions — Taiwan-based electronics manufacturer Wistron Corp purchased a factory in Sungei Way Free Trade Industrial Zone in Petaling Jaya, while Penang saw investments from Lam Research Corp, ViTrox Corp and Simmtech Holdings, among others. The rapid increase in demand for E&E partially led to the recent shortage in semiconductors/chips. Data centres will also continue to be in demand as connectivity is increasingly important for reducing physical contact.
The challenges and key takeaways in 2021 included the property market ecosystem being disrupted by the various iterations of the Movement Control Order (MCO). There were several bureaucratic challenges, including the time taken to receive approvals or consent from the authorities. Additionally, evolving market norms resulted in the need for some property sectors, such as those in the retail sector, to adapt to the latest consumer trends and preferences.
The high and rising vaccination rate in the country is the key differentiating factor in 2022, as compared with 2020 and 2021. More travel bubbles will be formed and more border openings will lead to higher economic activities and investment in the property market. The decentralisation of various sectors would also mean that there will be more opportunities in other parts of the country.
The pandemic has led to a higher demand for better/improved infrastructure, logistics and last-mile delivery services, enticing more people to consider locations that are traditionally less popular. In addition, the government is making efforts to restart the economy, and the incentives announced recently are some of the opportunities that we can capture in 2022.
Knight Frank Malaysia 
managing director 
Sarkunan Subramaniam 
and deputy managing director 
Keith Ooi
There was less market activity amid the prolonged pandemic owing to strict containment measures. The industrial sector, which is spearheaded by the logistics and E&E industries, has been extremely encouraging despite the relatively poor sentiment. In the early part of 2021, sentiment remained weak. However, with the improved vaccination rate and gradual easing of restrictions after July, there is renewed optimism in the local property market for 2022.
It is easy to say that the poor economic sentiment was caused by the pandemic, but the confusing standard operating procedures (SOPs) during the various phases of lockdown, coupled with local political uncertainty, added to the subdued situation. With the change of government and the pledge by the opposition to work with the government on its proposed solutions and resolutions for the pandemic and economy, we have seen more confidence returning to the market.
Investors should never overleverage, as the pitfalls of this in a downturn can be difficult to overcome. Despite the help that was extended through the loan moratoriums, there were also those that were not able to service loans and had their properties auctioned.
2022 will certainly be a better year for the property market, given the success of the vaccine rollout and reopening of the economy. We anticipate that there will be pent-up demand from homeowners and investors with the return of positive market sentiment. Nevertheless, some investors will adopt a wait-and-see attitude to determine if there will be any further setbacks or if these are really opportunities — this will be the tune for 2022.
Meanwhile, the abolishment of the real property gains tax (RPGT) for property disposals by Malaysians, permanent residents and other companies in the sixth and subsequent years of ownership is a long-awaited move. This augurs well, especially for long-term property owners who wish to dispose of their existing properties for the purpose of upgrading as well as for empty nesters looking to downsize. The exemption of the tax penalty is expected to boost activity, especially in the secondary market.
The pandemic has fuelled demand for residential properties, especially landed houses in established areas and upcoming suburbs with good connectivity, where prices are more affordable and competitive. With the potential shift to hybrid work arrangements post-pandemic, homebuyers are seeking ideal living spaces that are larger, with a greater emphasis on functionality and comfort.
Investors and homebuyers will find opportunities for bargains in developers' sales campaigns, which have been very attractive of late owing to the pandemic. Investors can pick up undervalued and/or distressed assets that have the potential to be repositioned in the market for either rental or sale flip purposes.
Nawawi Tie Leung Real Estate Consultants Sdn Bhd managing director 
Eddy Wong
The residential property market in 2021 saw signs of recovery, owing in part to the HOC. The total number of residential transactions for the first three quarters of the year increased 2.65% compared with the first three quarters of 2020, while the total value of transactions for the same period rose 16.4%.
This also means that the overall property transaction prices have increased, reflecting the optimism in the market. In fact, the total value of transactions has almost recovered to the pre-pandemic transaction value achieved in 2019 (9M2021: RM52.36 billion versus 9M2019: RM52.78 billion).
There is more interest in the property market as indicated by the number of loan applications for the purchase of residential properties, which increased by 33.7% for the first nine months of 2021 compared with the same period in 2020.
More importantly, the ratio of loan approvals against loan applications for the purchase of residential property improved from 33.9% for the nine-month period in 2020 to 35.3% for the same period in 2021.
As at 3Q2021, the residential property overhang, defined as unsold completed properties that have been in the market for more than nine months after launch, was 30,290 units, an improvement of 2.1% compared with 3Q2020. The property overhang is most pronounced in Johor (6,441 units), followed by Penang (4,638 units) and Kuala Lumpur (3,863 units).
The pandemic has also changed buyers' preferences, and units with more bedrooms or study rooms are an important consideration now to accommodate the WFH (and study-from-home) situation. Good internet connectivity is another consideration that has gone up in terms of priority.
People are also more amenable to locations further from the city centre if they do not need to commute to their workplace every day or if they adopt a WFH or hybrid working arrangement.
The market is expected to recover in 2022, in line with the recovery of the economy. However, there are still uncertainties in the market, including the political scene, where the timing of the general election and its outcome will affect market sentiment.
While Budget 2022 did not announce an extension of the HOC, it is still an excellent time to buy properties, as there are many incentives and freebies being offered by developers in an effort to clear their unsold inventory. Investors should, however, remember to do their homework and not overstretch themselves financially.
It is good to adopt a longer-term view of the market. This is the best time to buy properties, with the market already on the cusp of a recovery. Look for properties with good access to amenities, that are well connected, located in a great neighbourhood, and if possible close to an MRT or LRT station. Prices are very attractive in today's price-sensitive market, but are not expected to remain at these levels as construction costs have gone up and it is a matter of time before property prices follow suit.
Metro Homes Realty Bhd 
executive director 
See Kok Loong
The domestic market was slow overall as the lockdowns took up several months of 2021. Buyers were mainly owner-occupiers and bank loans were not easy to obtain because most businesses and employees' incomes were affected, the exception being government servants or employees of government-linked corporations and selective industries such as healthcare and e-commerce.
The challenges remained similar to those in 2020. These include reduced incomes and an oversupply situation because of a lack of real demand and continued uncertainty, whereby most people are not considering upgrading because of tight cash flow.
The key takeaway in 2021 was that Covid-19 is here to stay, and we need to live with it for years. People will start to adjust and adapt to it. Cash-rich buyers are hunting for deals or choosing their choice properties now — lately, transactions concluded involved low margins of finance.
Industrial properties at good locations are doing well as landlords are more reasonable and willing to let out their properties at much lower rents.
1H2022 should remain challenging as borrowers will have to start repaying their loans with the end of the loan moratoriums. Some good deals are expected to emerge for the last time before the market returns to normal. 2H2022 should be more promising. We will see a much more active market, with tourists returning, at least from Singapore.
We estimate prices will start to improve because a high inflation rate may push the cost of building up. There will be opportunities in the first six months as borrowers will have to start paying their instalments but their income/profit may not be back to normal yet. Vendors will be forced to sell at below market value to avoid their properties being auctioned off by the banks.
It will be a good time for investors. Homebuyers will have their pick of properties as many units will be for sale then.
PPC International Sdn Bhd 
managing director 
Datuk Siders Sittampalam
A description of the property market in 2021 would not be complete without mentioning the impact brought about by the Covid-19 pandemic, which resulted in business closures, unemployment and a weakening of the economy in general.
The pandemic resulted in an economic downturn and a property market slowdown. However, the first half of 2021 saw some recovery, with the volume and value of property transactions recorded higher compared with 2020. Residential transactions in the price range of RM300,000 and below recorded the highest volume of transactions among sub-sectors.
While market demand is inclined towards properties priced at RM300,000 and below, developers have to strike a balance between size and price in order to have a viable project in the midst of rising building cost.
The major challenge in the Covid-19 era is compliance with SOPs, and physical and social distancing leading to a shift in behaviour — from working at the office to working from home or flexible work arrangements. This has led to some pressure being exerted on the occupancy rate of commercial properties, with offices recording the lowest occupancy rate since 2000.
One significant activity that emerged from this pandemic was the rise of tech trends such as online shopping, digital payments and developers adopting proptech in selling properties. With e-retailing businesses on the rise, the industrial and logistics sectors became more important as demand for warehousing grew. The changing supply chain strategies led to industrial development being geared towards setting the first and last-mile connectivity in logistics within a city. This sector is poised to be a leading sub-sector of the property market in the short term.
We envisage that the RPGT exemption in Budget 2022 may stimulate transactions in the secondary market, to some extent attracting investors to the residential market.
The RM2 billion allocation under the Housing Credit Guarantee Scheme in Budget 2022 will assist young buyers, especially gig workers who do not have a fixed income, to purchase residential units. This will help many from the B40 group qualify for affordable home loans.
We believe that any mega infrastructure project that comes onstream hereafter will have a positive impact on the property market and the economy as a whole. However, this may be a challenge with funding limitations.
Zerin Properties 
managing director and CEO 
Previndran Singhe
The domestic property market in 2021 showed signs of recovery but remained soft, owing to the impact from the various levels of MCO to contain the prolonged pandemic, the weak economy and persistent overhang in some sub-sectors.
The property market has proven its resilience time and again, with developers and business owners pivoting towards the digital path, be it for marketing, new property launches and/or management and operations, enabling business continuity, while some embarked on repurposing their assets to meet changing market needs.
Several new residential launches saw strong take-up rates, with some developers reporting improved sales, driven by a quick shift to digital marketing with an easy and fast interface, favourable incentives (extension of the HOC, low interest rates, discounts and promotions) and pent-up demand for quality housing in strategic locations with attractive pricing for own-occupation and investments.
Land-banking activities and acquisition of development land and industrial assets were prevalent as developers took this opportunity to plan their future expansion and diversification into affordable housing and the industrial and logistics sectors, spurred by the rapidly growing e-commerce sector.
In 2021, the prolonged pandemic resulted in fewer transactions (sales, leases/tenancies) in both the primary and secondary markets owing to restrictions under the MCO. There was also the wait-and-see approach by developers and purchasers/investors.
Some key takeaways were a major shift to the digital way of doing business. Developers with unsold inventories and planned launches embarked on pricing adjustments. WFH and hybrid working arrangements led to a growing demand for curated spaces offering multifunctional adaptation and flexibility. There was also increased demand for multigenerational homes and developments with self-sustaining ecosystems (live-work-play concept). Retailers also shifted their focus to creating an omnichannel strategy.
As for the property market forecast for 2022, the property market will continue to remain on a recovery trajectory, with affordable housing, and the industrial and logistics sectors will remain as the industry's primary drivers. Interest among buyers/investors/business owners seeking good bargains will remain high with the favourable market conditions prevailing.
Specialised real estate sectors will be the core focus of developers/investors who wish to diversify into areas such as healthcare and wellness, data centres, logistics and warehousing and cloud kitchens. The announcement of MRT Line 3 (Circle Line) will boost market sentiment.
The opportunities (and bright spots) for investors and homebuyers in 2022 include hotspots driven by infrastructure enhancements (MRT lines /LRT 3) such as Kepong, Jinjang, Cheras, Sungai Buloh, Kajang, Shah Alam and Klang; industrial properties, particularly built-to-suit premises such as industrial parks within strategic location/connectivity, as well as Grade-A strata offices within integrated developments and in close proximity to LRT/MRT.
Rahim & Co International Sdn Bhd 
research director 
Sulaiman Saheh
Malaysia as a whole saw its market activities rebound at a strong 21% to 29% growth from 1H2020 to 1H2021, albeit lower than the pre-pandemic level.
Nevertheless, market sentiment was still in a cautious mode as uncertainties remained — though it was steadily improving as the vaccine and booster programme rolled out, coupled with the pent-up demand fuelled by the hope of a better 2022. For the retail and office markets, there was a continuing slight decline in occupancy rates and an increase in vacant spaces as the pandemic had not only pushed tenants to their limits with MCO periods and challenging economic conditions, but had also severely impacted the foreign consumer pool as international borders remain closed.
For the property sector, online marketing, virtual inspections and digital signatures are here to stay, with developers having adopted "proptech" solutions — providing virtual tours and online bank loan applications. Commercial spaces have also undergone a change as the integration of e-commerce and an online presence has become a vital component that is complementary to a physical presence, as opposed to a threat as previously felt.
Based on the vaccination rate the nation has achieved and the reopening of the market thanks to such a progressive vaccination rate, 2022 will be a more settled year as consumers, suppliers and regulators have adapted and integrated themselves fully into the new reality we are living in now. Many are looking forward to the reopening of borders for a much-needed boost.
The residential sector is still expected to see a larger seller-to-buyer ratio as a result of new units coming onstream continuously as well as property owners looking at utilising the extended RPGT exemption announced in Budget 2022. The office and retail sectors would face a more evolving nature of demand adjustment as new practices and spatial designs influenced by the pandemic would result in a change in consumer preferences and tenant requirements. Progress in infrastructure construction will further catalyse developments and revitalise economic growth areas by way of better connectivity and convenient access points.
The market in 2022 is expected to maintain its gradual recovery pace from 2020's bottom point, braced by the stimulus measures and assistance programmes, barring any "other unforeseen situation".
For homebuyers, the market is expected to remain in their favour. Prospective buyers, especially owner-occupiers, should always be on the lookout for bargain sales as the moratorium period is generally over, which means there may be some opportunities in the market. Developers too are offering special packages to entice buyers. As demand for the high-end segment takes a back seat, the market could swing back after a price consolidation, though it may not come too soon. The fundamental attributes of a property remain key for any asset's prospects, be it location, quality, neighbourhood and transportation-connectivity as well as the soft aspects that make a house a home that is sought after by the market.
Savills Malaysia 
group managing director 
Datuk Paul Khong
Given that Malaysia had close to four months of full lockdown, we note that 2021 was extremely challenging. With the closure of our borders, the thrust was purely on survival of businesses and its impact on the domestic property market.
Though the property market ended with a mixed performance scorecard, the residential sector did relatively well against the commercial with the HOC 2021. In 2021, all were treading into the new norm with hybrid WFH options. Digitisation of businesses and e-commerce also proved critical.
Businesses had to work harder during these recessionary periods to compensate for their losses accumulated since March 2020. Though easier said than done, many strived to stay afloat while others had to recuperate and rebuild new reserves to stay resilient.
The lessons learnt are about the "survival of the fittest" during the Covid-19 pandemic, where sufficient cash reserves are needed to see the businesses through. Property investors who got their timing and cash flow right can now look at properties for bargain sale prices.
The depressed market posed major challenges to over-committed investors and developers. Hence, price adjustments have been seen in both the primary and secondary markets, where more opportunistic purchases are visible. Good buys in prime locations that are normally not in the market, may be more common.
As for 2022, we hope that this pandemic/endemic subsides and that there will be a full recovery. We are hopeful that the market will see a stronger recovery and some growth by 2Q2022.
Budget 2022 has not given the property sector a much needed "booster shot" in the arm nor any major catalyst to uplift the market but, rather, allows it to naturally take its course into 2022. With the continuation of the low interest rate environment, property transactions and values may inch up slightly. Nonetheless, it will still be a challenge this year.
In terms of opportunities, property prices have seen strong discounts with the HOC. There may still be many bargains in 2022 but, unfortunately, the HOC and the moratorium in general have ended. There is no clarity on benefits in 2022, and the focus is solely on the actual market demand. We also expect to see some delayed foreclosure properties for sale.
Industrial, logistics, healthcare and data centres were favoured in 2021 while other sectors, such as retail, hospitality and residential, will have some catching-up to do as the market recovers to normalcy.
Many investors and real estate investment trusts will continue searching for income-yielding assets in the current economic conditions and may find some good deals  in certain sectors.
Henry Butcher Real Estate Sdn Bhd 
chief operating officer 
Tang Chee Meng
After the sharp drop in the volume and value of property transactions in 2020, there was hope that the property market would recover in 2021 with the pickup in the pace of vaccinations.
1H2021 saw a significant jump in the volume (21%) and value (32%) of transactions compared with the corresponding period in 2020. The value of residential loan applications and approvals for this period also shot up and were the highest recorded over the past 10 years.
Overall, the secondary residential market was still sluggish but saw improvement owing to pent-up demand for higher-priced residential properties, for which there were no new projects launched in recent years. 
2H2021 was, however, impacted by the restrictions imposed under Emergency and MCO SOPs, and this affected the overall performance for 2021. The key challenges during the year included the slowdown in the economy, decline in investors' confidence, increase in business failures and unemployment rate, closure of developers' sales offices during the MCOs as well as stringent criteria adopted by banks.
Property developers, however, have been quick to react to the situation and refocused on landed residential developments as well as affordable homes priced at RM500,000 and below, which enjoy stronger demand.
With the achievement of the government's vaccination targets and the relaxation of SOPs, including the reopening of all sectors of the economy and interstate travel, the property market is expected to benefit from the ensuing improvement in business sentiment.
As the political situation becomes more stable after the change of prime minister and the signing of a memorandum of understanding with the opposition, the business environment has improved and the property market is expected to continue its recovery in 2022. The pace will likely be gradual in the first half but may pick up speed in the second half, provided there is no fresh Covid-19 outbreak or a deterioration of the political situation.
Budget 2022 did not introduce any substantial goodies that can boost the market. Housing developers are hopeful that the HOC's incentives will be extended into 2022. Nevertheless, the property market should continue its gradual recovery. Homebuyers will have a wide choice of landed properties as well as affordable high-rise residences priced below RM500,000 as this market segment will continue to be the focus of developers in 2022.
LaurelCap Sdn Bhd
executive director 
Stanley Toh
The industrial sector had seen huge buying interest, especially in the logistics and warehousing segments, with high demand from e-commerce, as well as other industries such as gloves and anything healthcare-related. There is also demand for data centres, especially in high-tech industrial parks, driven by the surge in e-commerce.
Residential property demand was strong in the Klang Valley and was mainly driven by terraced houses. We have also seen a surge in the sale of semi-detached and detached houses, with many taking advantage of the HOC and goodies offered by developers to upgrade to a larger home, with the realisation of the importance of space and privacy — such as for Zoom meetings — during the lockdown.
The high-rise apartment segment was affected, especially units located in the KLCC area as international marketing came to a halt during the pandemic. Foreigners were unable to visit Malaysia to view properties and marketing agents/developers were unable to go overseas to promote their products, which led to poor sales numbers. With selling prices in the millions, there is a lack of domestic demand for these types of properties. Nevertheless, the demand for residential properties below RM500,000 in general is still strong, especially in the Klang Valley.
The commercial and retail sectors were the most hit by the MCO and are still recovering. With the WFH culture still present, office demand dynamics will change significantly while the retail market saw some movements in the last quarter of 2021, as revenge spending took place.
Some of the challenges in 2021 were border closures, resulting in the scarcity of foreign demand; the delay in construction, resulting in delivery delays for properties; and the MCO, which caused delays in approvals of new developments by the local government as meetings were postponed owing to the pandemic. In the hospitality industry, staffing was an issue as recruitment could not keep up with the sudden surge in demand in 4Q2021; there was also not a lot of liquidity in the market.
While most people are bullish about 2022, I am a bit sceptical, as once the loan moratorium ends, many will be at risk of defaults as many are still not able to find jobs which they lost due to the pandemic, or attain the same salary. Coupled with the rise in inflation, livelihoods will be at stake. Hence, the inability to meet scheduled payments — at highest cost due to deferred payment — may lead to more property auctions.
Hopefully, the borders will reopen and more foreign investors will be able to bring in investments. There are a lot of opportunities in the warehousing and logistics sectors as well as data centres. Due to inflation, construction costs will also increase this year, which will indirectly drive up property prices. Development of affordable houses (RM500,000 and below) will still be the focus in 2022.
KGV International Property Consultant (Johor) sdn bhd
executive director 
Samuel Tan 
The key challenge in 2021 was the difficulty in juggling between lives and livelihood. The pandemic caused the economy to come to a standstill as our priority was to save lives. On the flip side, if we were to place the economy as the priority, many lives would be lost. This irony makes the whole economic recovery extremely challenging.
With our high vaccination rate and the booster shot (exercise) that is underway and the forthcoming antiviral pills that are expected to be rolled out soon, we might be seeing the light at the end of the tunnel. The efficacy in winning the battle is subject to externalities such as a virus mutation, which culminates in something that is even more deadly and infectious. The lower loan approval rate was another dampener as banks took a cautious stance and were more circumspect in approving loans.
After almost two years of lockdown and reduced activities, we foresee the building up of pent-up demand, especially for owner-occupied housing. We expect those who are eligible and have been doing their homework to start buying their dream home. Savvy investors will also be on the lookout to buy good investment properties as prices have come down to a very reasonable level.
Developers were expected to actively clear their unsold stock by capitalising on the HOC measures. Some may even offer special packages to entice prospective buyers and get the cash flow moving. A rate hike may be possible and this will increase borrowing costs and deter some from purchasing big-ticket items.
The property market in 2022 will still be a buyer's market in general. Despite the improved market conditions and sentiment due to the likelihood of an improved economy and gradual border reopening, we do not foresee a V-shape pickup in transaction and prices, and hence, the market recovery is likely to be a gradual one.
Two-storey terraced houses and high-rise residences in selected locations in Johor Baru will see demand picking up. Residential units that are spacious with excellent connectivity will be well received as WFH has become an alternative working mode.
There could also be opportunistic purchases from the auction market when banks cease their moratoriums. Most of the auctioned properties currently are low- and low-medium priced houses, particularly high-rises. When it comes to the crunch, there will be some landed residential houses offered, albeit limited and selectively. We are only beginning to see some developers clearing some non-core unsold stock, often with attractive discounts, and these are items that investors should look out for.
Rahim & Co international sdn bhd 
regional manager (Sabah) 
Max Sylver Sintia
The property market was soft and property players remained cautious owing to the unpredictable situation caused by the Covid-19 pandemic. Despite the cautious sentiment, with buyers adopting a wait-and-see attitude, the market overall held on relatively well.
Sabah's residential property market has shown some upward strength, although it is still weaker than before the pandemic. Despite the significant drop in residential property sales in 2020, real estate activity began to improve in 1H2021, albeit far from where it was prior to the pandemic.
Transaction volume for the residential sub-sector in Sabah as at 1H2021 was 2,226, up 34.83% against 1H2020. The value of transactions increased 61% to RM905.98 million in 1H2021 against 1H2020.
Transaction volume and value for industrial properties declined 19.83% and 31.37% respectively. The commercial sector was more positive, with transaction volume and value growing 57.79% and 53.43% respectively.
There was little new stock in the market owing to the lack of new launches as developers focused on selling unsold inventory. Despite the decline in developers' sales performance, some projects have performed well due to their concept, product, location and marketing strategies.
In terms of challenges, the tourism industry struggled in 2021 owing to border closures. This not only affected hotels but also condominiums within the city centre, which saw a dip in value owing to the downward pressure on rents. The asking prices of condos were also pressured by the relocation or retrenchment of expatriates working in the city.
As they have had to tighten their purse strings and face potential employment insecurities, buyers have been in a wait-and-see mode for the best bargains. International buyers' investment appetite was affected owing to temporary border restrictions.
There were fewer development completions and launches in 2021 owing to the strict containment measures, which delayed construction works and project delivery, as well as completion of real estate transactions. Many developers have adopted new marketing strategies by using digital marketing to reach potential buyers.
The prospects for 2022 remain challenging but there are glimpses of light. There was some positivity in market sentiment by end-2021. The recent acceleration in vaccination, the likelihood of borders reopening and international trade and travel resuming will lift consumers' confidence and sentiment, which are key to economic growth. Even so, the affordability factor will continue to be a top priority for homebuyers.
This year, bargain hunters will look out for the best deals, as there will be more bargains and a wider selection in the market. Low interest rates, coupled with a string of homeownership incentives, will lower the barriers to residential purchase and accelerate the buying plans of prospective buyers.
As it is a buyer's market, opportunities can be found in strategically located developments with amenities and transport infrastructure. They are made more attractive by the incentive packages offered by developers.
The content is a snapshot from Publisher. Refer to the original content for accurate info. Contact us for any changes.
Related Stocks
Comments