Capital A, Serba Dinamik, Farm Fresh, FGV, UEM Edgenta, Velesto Energy, CB Industrial, Engtex, Scientex Packaging, N2N Connect, Advance Synergy and Fast Energy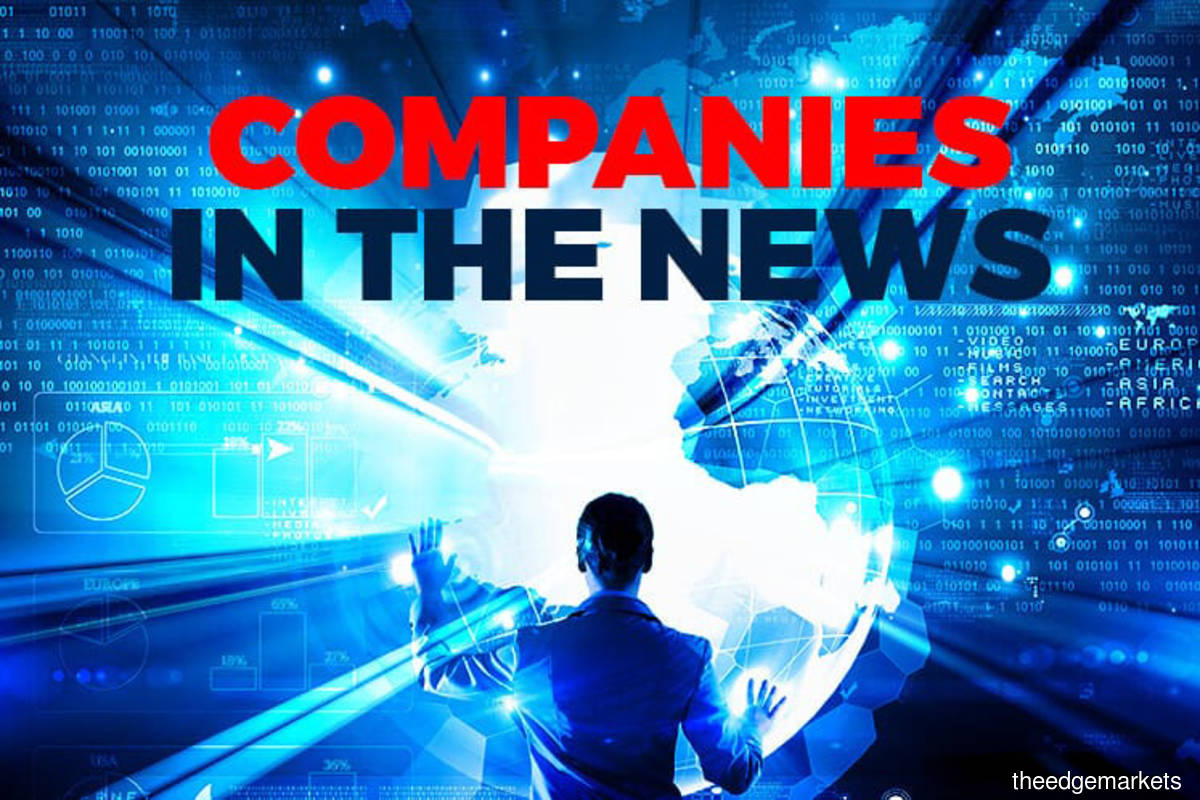 KUALA LUMPUR (March 11): Based on corporate announcements and news flow on Friday, companies that may be in focus next Monday (March 14) include Capital A Bhd, Serba Dinamik Holdings Bhd, Farm Fresh Bhd, FGV Holdings Bhd, UEM Edgenta Bhd, Velesto Energy Bhd (VEB), CB Industrial Product Holdings Bhd (CBIP), Engtex Group Bhd, Scientex Packaging (Ayer Keroh) Bhd, N2N Connect Bhd, Advance Synergy Bhd (ASB) and Fast Energy Holdings Bhd.
Tan Sri Tony Fernandes, chief executive officer of Capital A Bhd (formerly known as AirAsia Group Bhd), has clarified that the group decided not to proceed with a club facility of up to RM500 million under the Danajamin Prihatin Guarantee Scheme as it deemed some of the conditions imposed unreasonable. Fernandes reiterated that Capital A will continue to explore other financing alternatives more suited to its operations and requirements, while noting that the group's fundraising strategy remains firmly on track to sustain operations through 2022 and support the airline's recovery.
The High Court (commercial division) had on Friday dismissed four Serba Dinamik Holdings Bhd subsidiaries' applications for all of them to be placed under interim judicial management until the determination of a permanent judicial manager (JM) is made. The four companies in question are Serba Dinamik Group Bhd, Serba Dinamik Sdn Bhd, SD Control Sdn Bhd and Serba Dinamik Development Sdn Bhd. Judicial commissioner Nadzarin Wok Nordin, in his decision, ruled that the four companies do not pass the threshold of prima facie for the appointment of an interim judicial manager, as the hearing to appoint a permanent JM is already fixed on March 24, which is less than two weeks away.
Farm Fresh Bhd's initial public offering (IPO) for the Malaysian public portion was oversubscribed by 18.74 times. Farm Fresh's IPO involves the issuance of 743.18 million shares comprising an institutional offering of 687.44 million shares to Malaysian and foreign institutional and selected investors, including Bumiputera investors approved by the Ministry of International Trade and Industry. The remaining is a retail offering of 55.74 million shares to the directors of Farm Fresh and its subsidiaries, eligible employees, persons who have contributed to the success of the group and the Malaysian public.
FGV Holdings Bhd clarified on Friday the plantation group does not appoint employment agencies or companies in India or other countries to hire plantation workers as alleged in advertisements and letters. It has also never used the services of Searising Overseas Training & Manpower Solution Pvt Ltd or authorised the company to hire workers for FGV.
Sarawak Economic Development Corp (SEDC) has entered into a joint venture with UEM Edgenta Bhd's subsidiary to provide project management services and engineering design consultancy services relating to engineering and construction projects. SEDC said its wholly-owned subsidiary PPES Consults Sdn Bhd (PCSB) will be establishing a JV company called Opus Consultants (Sarawak) Sdn Bhd (OCS) with UEM Edgenta's wholly-owned subsidiary Opus International (M) Bhd (OIMB). PCSB will hold 51% of OCS, while OIMB will hold the remaining 49% stake.
Velesto Energy Bhd (VEB) said its unit has received a two-year contract to provide jack-up drilling rigs to Petronas Carigali Sdn Bhd (PCSB). PCSB's contract was awarded to Velesto Drilling Sdn Bhd (VED), which is mainly engaged in offshore drilling and operations and other engineering services for oil and gas exploration, development and production in Malaysia and overseas.
CB Industrial Product Holdings Bhd (CBIP) has acquired the remaining 30% stake or 30 million shares in biofuels producer Gulf Lubes Malaysia Sdn Bhd (GLM) for RM24 million in cash. CBIP said it had entered into a share sale agreement with the shareholders of GLM, namely Satyanarayana Jampa Veera Venkata, Ramalingam Karuppaiah and Mogahid Taha Yassin. The trio have a 10% stake each in GLM. Upon completion of the proposed acquisition, GLM will become a wholly-owned subsidiary of CBIP and enable the company to plan and set direction of GLM so as to achieve any potential synergy among the group of companies as well as to resolve the management deadlock in GLM as announced on June 30, 2020.
Engtex Group Bhd and its director Tan Sri Tee Tiam Lee are disposing of a 100% equity interest in property development firm Corporate Benchmark Sdn Bhd (CBSB) for RM13.5 million. Engtex and Lee have entered into a sale and purchase agreement with Datuk Tan Gee Swan @ Tan Suan Ching and Tan Yu Jian for the disposal. Following the disposal, CBSB will cease to be a subsidiary of Engtex. Engtex said the disposal provides an opportunity for the firm to unlock the value of the land since its acquisition in 2014 and generate immediate cash flow to Engtex for its working capital purposes.
Scientex Packaging (Ayer Keroh) Bhd (formerly Daibochi Bhd) saw its net profit in the second quarter ended Jan 31, 2022 (2QFY22) fall 22.57% to RM11.69 million from RM15.1 million in the previous year's corresponding quarter, due to a rise in raw material and freight costs. The group's quarterly revenue, however, surged 20.53% to RM194.47 million from RM161.34 million a year prior, underpinned by higher domestic and export sales. For the six-month period ended on Jan 31, Scientex Packaging's net profit dropped 22.93% to RM21.49 million against RM27.89 million registered in the same period last year. Six-month revenue, on the other hand, rose 17.85% to RM374.78 million from RM318.02 million, driven by higher sales in the domestic and exports market.
N2N Connect Bhd announced the resignation of Datuk Tan Boon Leng as the company's independent and non-executive director effective Friday. Tan, who had served on the board since 2009, has decided to step down as a director of the company after more than 12 years of service to the provider of integrated e-commerce solutions for securities trading.
Advance Synergy Bhd (ASB) is proposing to undertake a renounceable rights issue of up to 1.8 billion (1,858,389,886) new ordinary shares in the company on the basis of two right shares for every one existing ordinary share held on an entitlement date to be determined later. In addition, the company is seeking a proposed exemption for its chairman Datuk Ahmad Sebi Bakar and the persons acting in concert with him from the obligation to undertake a mandatory take-over offer for the remaining ASB shares not already owned by them, upon completion of the proposed rights issue. The PACs comprise Suasana Dinamik Sdn Bhd, Bright Existence Sdn Bhd and Eight Review (M) Sdn Bhd, as well as Ahmad Sebi's daughter Aryati Sasya Ahmad Sebi and Ahmad Sebi's son Anton Syazi Ahmad Sebi.
Fast Energy Holdings Bhd plans to raise up to RM4.71 million through a private placement of up to 78.51 million new shares or 10% of its total issued shares, at issue price to be determined later.  The proceeds from the proposed private placement will be used mainly to fund the working capital of the petroleum trading business, as the company has already entered into contracts for its petroleum products.
The content is a snapshot from Publisher. Refer to the original content for accurate info. Contact us for any changes.
Related Stocks
Comments