Component supply disruptions and labour shortages bedevil EMS players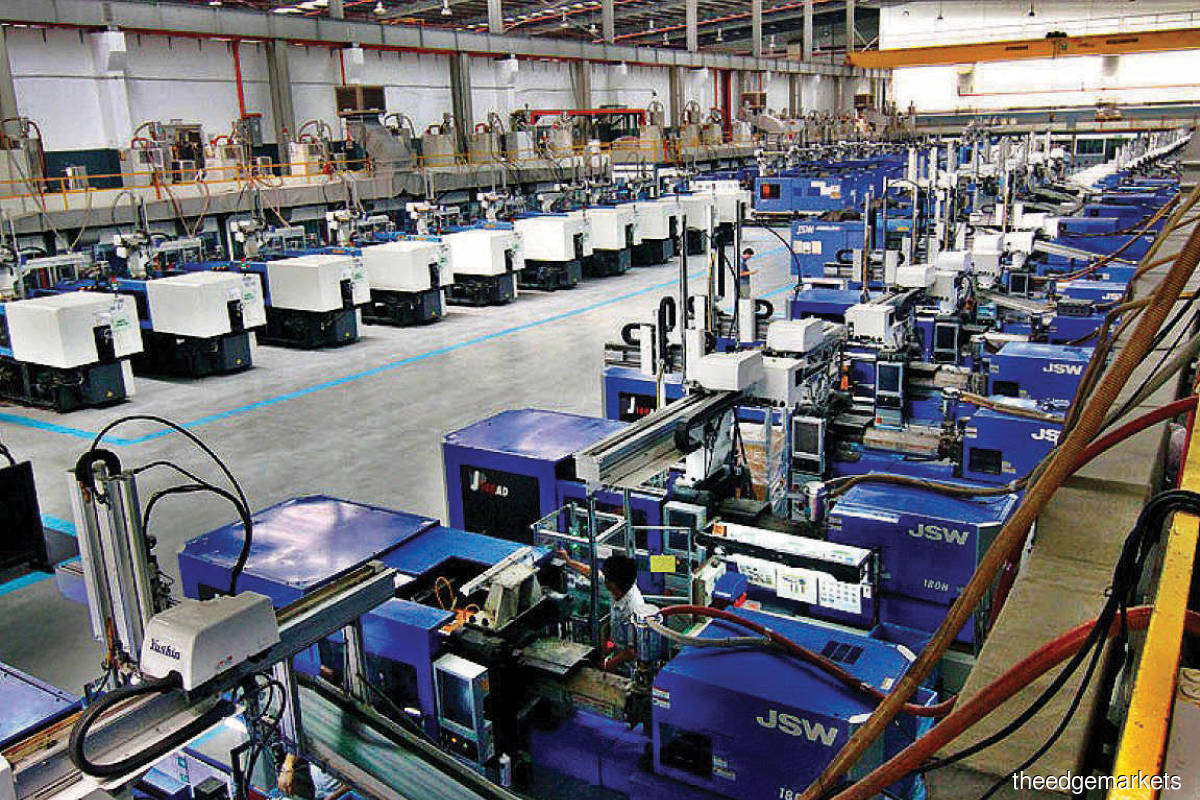 THE electronic manufacturing services (EMS) sector is anticipating a healthy flow of contracts on the back of a pickup in consumer demand, but component supply disruptions and labour shortages continue to bedevil the industry.
Last year, the EMS industry was plagued by the forced labour issue at ATA IMS Bhd.
The labour issue cost ATA IMS its major customer Dyson, which contributed the lion's share or a whopping 80% of the group's revenue. Unfortunately for ATA IMS, its contract manufacturing agreements with Dyson Operations and Dyson Manufacturing will be terminated effective June 1 this year.
Analysts, however, view ATA IMS as an exceptional case as they believe that contract flows will remain robust for major EMS players in the country.
HLIB Research analyst Syifaa' Mahsuri Ismail remains upbeat on the business prospects for EMS players as the order outlook remains strong in view of several discussions taking place with existing and new customers. "Despite some blips in results, we understand that demand orders are still very robust across the industry. This is evident [from] companies continuing to expand their capacity in order to cater for the encouraging demand," she tells The Edge.
Kenanga Research analyst Samuel Tan notes that the reopening of borders will benefit EMS players. "When multinational firms can come in [more easily], this will help in terms of contract flows — that is, the securing of new customers. For example, PIE Industrial Bhd recently secured more new customers from China."
The labour woes faced by ATA IMS appears to have benefited its peers as The Edge is given to understand that the Dyson contracts will flow to VS Industry Bhd and SKP Resources Bhd.
As the industry is labour intensive, Tan stresses that the lack of labour remains the top challenge for its players.
"For SKP and PIE, it is still about the labour issue. Components are manageable for them. With a sufficient labour force, it can help them better optimise their production."
He explains that the turnover rate among local labour is high and that this has led to greater training costs for EMS firms. "That's why a lot of margin compression was due to retraining costs and [the] yield rate not being optimised."
Nonetheless, Tan sees a slight improvement in margins this year, aided by the recruitment of foreign labour, which could optimise production rates.
Syifaa' is of the view that component supply disruptions will remain a key challenge for the sector this year, with some players starting to stock up inventories in preparation to mitigate the shortages.
She is not overly concerned about rising operating costs, as most players are able to pass on the increase in raw material prices and other operating costs to their customers, albeit with a time lag.
Given rising inflation, Tan says the key risk for the EMS industry is a shift in consumer spending behaviour and preference. "Consumer spending may not be as great as during the Covid-19 period," he cautions.
That said, he observes that the order pipeline from Dyson looks positive in view of the expansion in its product range.
"They (Dyson) will still call for tenders for new household items. Demand for household items may stabilise but I don't think it will decline. It's just that you won't see a strong quantum of buying [compared with] six to 12 months ago."
Syifaa's favourite pick in the EMS sector is VS on the back of a healthy order outlook resulting from the steady demand for consumer electronic products, as well as margin expansion from customer diversification efforts.
"As the biggest EMS player in Malaysia with a solid track record, VS is a prime beneficiary of the intensifying trade diversion theme."
For the financial year ended July 31, 2021, VS' net earnings doubled to RM245.34 million from RM116.48 million a year ago.
However, for the first quarter ended Oct 31, 2021, its net profit slumped 40.9% to RM39.39 million against RM66.68 million in the same quarter a year ago, due to fewer orders for printed circuit board assembly from key customers and disruptions in component supply.
A total of 11 analysts are recommending a "buy" on VS while one has a "hold" call. The consensus target price for VS is RM1.57, representing a 58.6% upside over last Thursday's closing price of 99 sen.
VS' manufacturing services include plastic injection mould design and fabrication, a wide range of injection tonnage and finishing processes, printed circuit board assembly, automated assembly and final processes of packaging and logistics.
Tan prefers PIE because of the different types of customers it serves. "They are not fighting for the same vacuum cleaner customer, but are more into supercomputing servers and digital entertainment equipment. They are the new catalysts for the group."
PIE reported a 30.2% jump in net profit to RM58.47 million for the financial year ended Dec 31, 2021, against RM44.92 million a year ago, buoyed by higher margins, new product orders from new customers, higher income from scrap sales and the reversal of provision for slow-moving inventories.
There are two "buy" calls on PIE with a target price of RM3.95, according to Bloomberg. It implies a 36.7% upside over last Thursday's closing price of RM2.89.
PIE is 51.42%-owned by Taiwan's Pan-International Industrial Corp, which in turn is 27.33%-held by Foxconn, more formally known as Hon Hai Precision Industry Co Ltd. Its strengths are its vertical integration capabilities in a wide range of components, including printed circuit board assembly, injection moulding, lens, cable and wire, metal stamping and box assembly.
CGS-CIMB Research, in a Feb 27 note, says it likes SKP as it trades at attractive FY2023 and FY2024 price-earnings ratios of 12.3 times and 10.8 times respectively.
"We believe order flows from its key customer remain robust and should underpin a stronger FY2023-2024. We gather that SKP continues to receive encouraging enquiries from its key customers as well as potential new customers, and is in the midst of undergoing capacity expansion in anticipation of stronger order flows and new product model wins for FY2023-2024."
Based on the consensus target price of RM2.19, SKP's share price has a potential upside of 59.9% over last Thursday's closing price of RM1.37.
SKP has a strong foothold in plastic injection moulding, as well as tool and die fabrication, and contract manufacturing and component assembly. Its net profit for the nine months ended Dec 31, 2021, expanded 21.5% to RM118.64 million from RM97.63 million in the same period the year before, thanks to better economies of scale and increased efficiency in manufacturing processes.
Similar to tech firms, the shares of EMS players declined from their peaks last year, with VS and SKP skidding 42.8% and 41.6% respectively, while PIE has seen a much smaller drop of 7.7%.
The content is a snapshot from Publisher. Refer to the original content for accurate info. Contact us for any changes.
Related Stocks
Comments